Booth:

Tarmac Topblock
Group: Topblock
Aircrete and aggregate blocks product range guide -
36 Pages
These Durox products should be selected for more demanding loadbearing requirements and for use in separating walls in dwellings.

High strength walls (select '4', '7' or '10' as required) above and below ground

Cavity separating walls (Robust Detail E-WM-6) in houses and flats Outer leaves of cavity walls which are rendered or clad

Durox blocks conform to Category 1 for masonry units as specified in BS 5628-1 allowing a superior partial safety factor to be used compared to blocks produced to less rigorous manufacturing control. Supabloc 10 provides equivalent wall strength to 10.4N/mm2 blocks produced to Category 2 controls.

SUPABLOC 10: 8.7N/mm2 - UNIT WEIGHT (kg)

Unit weights are approximate and based on 3% moisture content

Supabloc 4 Supabloc 7 Supabloc 10 Mean compressive strength to BS EN 771-4 (N/mm2) 4.2 7.3 8.7

Dry density (kg/m3) 630 680 720

Thermal conductivity (W/mK) 0.16 0.19 0.19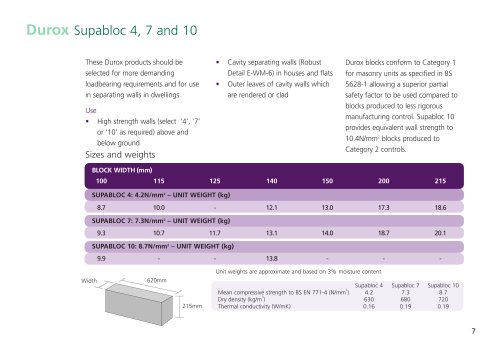 P. 2

Contents Introduction 3 Aircrete Durox large format blocks for high thermal and acoustic performance Supabloc 6 Supabloc 4, 7 and...

P. 3

Tarmac manufactures the widest range and highest quality of concrete blocks in the industry, including aircrete, dense and lightweight aggregate blocks....

P. 4

Ir Quality All of our blocks are manufactured under a Quality System complying with BS EN ISO 9001. Materials going into the blocks come from...

P. 5

Introduction Why use Tarmac Topblock products? m Low unit weight Most sizes of blocks meet the health and safety standards for...

P. 6

Supabloc Supabloc Walls below ground up to Design Sulfate Class DS-2 When Supabloc is used as an outer leaf of a cavity wall above ground,...

P. 8

System - Thin joint blockwork System is a fast-build method that allows rapid construction of blockwork - offering the potential for better construction...

P. 9

System - Thin joint blockwork Sizes and weights BLOCK WIDTH (mm) 100 125 140 200 215 SYSTEM 500: 3.6N/mm2...

P. 10

Foundation blocks Foundation blocks Foundation blocks are produced specifically for use below ground in solid walls. Its use replaces the inner...

P. 11

Coursing bricks Coursing bricks Durox Coursing bricks are used in conjunction with Durox blocks. Their use eliminates cutting and wastage of full-sized...

P. 12

Floor blocks Floor blocks Durox Floor blocks are suitable for use in beam and block floor systems to ground and internal floors in housing. They...
Text version
All Tarmac Topblock catalogues and technical brochures
Archived catalogues
Tarmac Building

12 Pages