427 Wine Storage -
1 Pages
Model 427Wine Storage
Better wine storage conditions for thebottle ultimately means better enjoymentin the glass.Model 427 has a winestorage capacity of 132 (750 ml) bottles.Two independent storage zonesmaintain the temperature and humiditythat wineand wine loversחrequire.The integrated design allows the unit to merge seamlessly into the dcor,with no visible hinges or grilles.Accessory panels are available in threestainless steel finishes.
Two Model 427G units shown installed side by side.
Specifications Model Options
Overall Dimensions27"W x 80"H x 24"D Glass Door (standard) 427G Wine Storage Capacity132 bottles* Solid Door 427S Finished Opening27"W x 80"H x 25"D** High Altitude Glass Door 427HAG Door Clearance25 >
1 / >
2 " Specify Door Swing LH or RHElectrical Requirements115VAC, 60 Hz, >
Features Enemies of Wine
Standard full-view glass door with UVprotectionsolid door and high altitude
glass door model options availableTwo independent temperature zones withideal humidityNine 750 ml bottles per standard shelf
Five top zone standard shelves with 45bottle capacityNine bottom zone standard shelves with81 bottle capacityIlluminated display shelf holds 750 mlbottles or magnums Heat 闖 Two independent storage zones can be set in a range of 38˚F to 65˚F, with
one-degree digital accuracy. 15 amp dedicated circuit Light UV resistant bronze tinted glassshields wines from harmful rays. Shipping Weight֖Glass Door 395 lbs >
*750 ml bottles.**Depthis 24"from the front of theunit toits back.Your design may necessitate moving the unitback, or cabinets forward to achieve a flush fit.This will require a minimum opening depth of 25". Humidity Dual evaporators, one for eachstorage zone, maintain steady, moderatehumidity. Vibration ֖ Sub-Zeros quiet compressor lets wines rest undisturbed.Shelves glide out
smoothly, providing access without agitating
the wine. >
For additional information on the Enemies of Wine,visit www.subzerowine.com.
Product Notes Accessories
Stainless steel panels with handles for glassdoor or solid door models are available as
accessories.Panels for an 80" finished heightare offered in classic, platinum and carbonfinishes.Panels for an 84" finished height
come in the classic finish only.Panels can be
ordered to include a lock.These panels are
not installed at the factory. Stainless steel panels with handles for glass or solid door models with an 80" finished height (classic, platinum and carbon)Stainless steel panels with handles for glass or solid door models with an 84" finished height (classic only)Dual installation heater kit
ULapproved lock With the installation of a harness kit, thisappliance is certified by Star-K to meetstrict religious regulations in conjunction with specific instructions found onwww.star-k.org.For details on the harnesskit, contact your Sub-Zero dealer. >
Accessories are available through your Sub-Zerodealer.To obtain local dealer information, visit theLocator section of our website, subzero.com. ClassicCarbonPlatinum size="-1">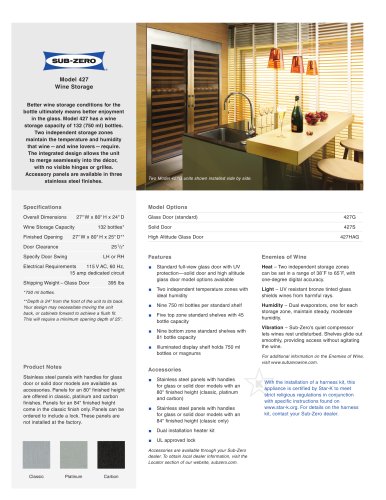 Text version
Archived catalogues