BOLGHERI -

27

/ 28 Pages
marmo sp. 3 cm. / marble 3 cm thick,
Tipologia Profilo
/ Profile Type
Colori marmo
/ marble color
Bianco Carrara - Carrara white
Arabescato - Arabesqued
Calacatta
Verde Guatemala
Travertino
Giallo ocra satin
Yellow ocher satin
Sahara gold
(satinato - satin)
Petit granit
(lucido - gloss)
Petit granit
(levigato - smoothed)
Petit granit (fiammato patinato
- iridescent patina)
Kaeser brown
(lucido - gloss)
Kaeser brown
(levigato - smoothed)
Kaeser brown (fiammato patinato iridescent patina)
Grabla
(levigato - smoothed)
Grabla velvet
Sea shore
(lucido - gloss)
Sea shore
(levigato - smoothed)
Sea shore velvet
Pietra del Carso
(levigato - smoothed)
Pietra del Carso velvet
Mizar grey
(lucido - gloss)
Mizar grey
(levigato - smoothed)
Mizar grey (fiammato patinato iridescent patina)
Ariel grey
(lucido - gloss)
Il programma completo
di cassetti versatile
dal design esclusivo,
unico e funzionalE
/ The complete program
of drawers versatile
design Exclusive,
unique and functional
Ariel grey
(levigato - smoothed)
Il passaggio a GRASS ha consentito di
proporre l'intera gamma di elementi
estraibili della STOSA sotto un'unica
configurazione di sponde carenate che, oltre
a soddisfare il fattore estetico, con le eleganti
finiture in acciaio, conferiscono anche
al prodotto di base un elevato standard
qualitativo, il tutto abbinato ad una estrema
coerenza in tutta la linea di prodotti siano
essi standard che ridotti, basata sull'estrema
scorrevolezza, resistenza e stabilità delle
guide.
Ariel grey velvet
granito sp. 3 cm / granite 3 cm thick
Colori granito
/ Granite colors
Granito rosa - Pink granite
Granito grigio - Grey granite
Granito ghiandone grigio
Grey Ghiandone granit
Toak purple
(lucido - gloss)
Toak purple
(levigato - smoothed)
Toak Purple (fiammato patinato iridescent patina)
Granito River rosa
River pink granite
Granito kashmir white
Kashmir white granite
Nero assoluto lucido
Absolute black gloss
Granito bianco sardo
Sardinian white granite
Granito nero africa
Nero assoluto fiammato patinato
Absolute black iridescent patina
Granito giallo veneziano
Venetian yellow granite
The change to GRASS permit to the entire
range of STOSA pullout elements to be
offered in a single configuration of covered
sides which, as well as meeting aesthetic
requirements, with elegant finishes in
steel, give the basic product a high quality
standard, all with extreme consistency in the
whole line of standard and reduced products,
based on the extreme smoothness, rigidity
and stability of the runners.
SPONDE STANDARD
Sponde scatolate in acciaio.
Il sistema completo, preciso e
personalizzato.
STANDARD SIDES
Box-type steel sides.
The complete, careful and custom
system.
SPONDE INOX OPTIONAL
Sponde scatolate in acciaio inox
dal design elegante, ed eccellenti
proprietà di scorrimento.
OPTIONAL STAINLESS STEEL
SIDES
Box-type stainless steel sides
featuring an elegant design, and
excellent sliding.
GUIDE
Sistema di apertura, ad estrazione
totale. Standard - Ammortizzate Push-pull.
RUNNERS
Full-extraction opening system.
Standard - Damped - Push-pull.
ACCESSORI
Antisgancio di serie: su tutta la
gamma, integrabile a richiesta
col sistema di sicurezza
apertura per bambini.
ACCESSORIES
Safety device provided standard:
for all the range, on request it
can be integrated with the child
safety opening system.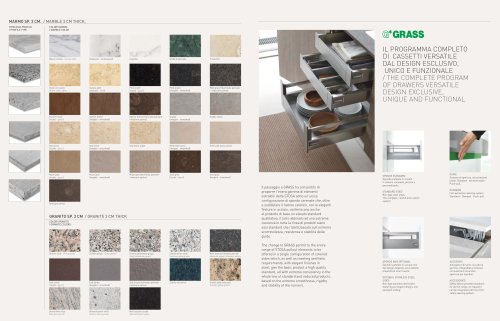 Text version
All STOSA CUCINE catalogues and technical brochures
Archived catalogues
POCKET

29 Pages

MAGAZINE STOSA 2011

45 Pages

Stosa News 2011

27 Pages