Booth
Spotlight
Short Form Catalogue -
12 Pages
PDTLIGHT
professional lighting for the performing arts
Fresnels Plano-convex
Ellipsoidal Profiles
Optical condenser Profiles Followspots
Floodlights Cycloramas Beamlights
Daylights
LED projectors
Effect projectors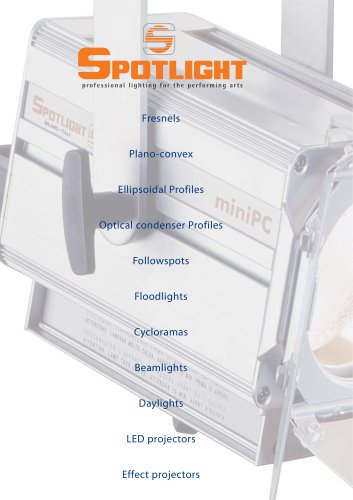 P. 5

Evolution Sintesi High definition halogen and discharge profile spots. For ultimate performance. Offer high quality and performance for the most demanding...

P. 6

Combi Quadro Fresnel, PC and Profile spots. The best combination of professional quality and competitive price. Optimal lighting performance. Very high...

P. 7

The widest range of die-cast aluminium followspots. Long lasting performance. Vedette Sturdy die-cast extruded aluminium housing High efficiency optical...

P. 8

arc system Daylight Fresnel for 5600 K metal halide lamps, for Cine TV application. Hot Restrike ignitor Е Microswitch disconnects power when...

P. 9

Domino and Ribaltina cyclorama Accessories and Options available Floodlights for the illumination of backdrops and Cycloramas. Accessories: Filter...

P. 12

CT-SP RI EN / 200902 Note: To ease readability, the objects shown are not reproduced in their correct proportions. Spotlight reserve the right to change...
Text version
All Spotlight catalogues and technical brochures
Archived catalogues
Architectural Catalogue

44 Pages