Booth:

SPI Lighting
Group: Spilighting
ADVENT Arcadia -
20 Pages
Finishes
IndexPaint Finishes
Arcadia Square - Solid Face AEW 1080 6AEW 1088 6
AEW 1100 6
AEW 1120 6
AEW 1128 6
AEW 1136 6 PT01 Superwhite* PT02 White PT03 Morning Light PT04 Warm White PT05 Putty PT06 Warm Beige PT07 Light Taupe PT08 Medium Taupe PT09 Medium Gray PT10 Dark Gray >
Arcadia Square - Luminous Face AEW 1082 8
AEW 1094 8
AEW 1102 8
AEW 1122 8
AEW 1130 8
AEW 1138 8 PT11 Black PT12 Dark Chocolate PT13 Warm Gray PT14 Light Gray PT15 Sage >
Arcadia Round - Solid Face PT16 Spruce PT17 Red PT18 Deep Red PT19 Blue PT20 Dark Green >
AEW 1084 12
AEW 1096 12
AEW 1104 12
AEW 1124 12
AEW 1132 12
AEW 1140 12
Metallic Paint Finishes Metal Finishes
PT21 Pearl White* PT22 Platinum* PT27 Deep Copper* BAL Brushed Solid Aluminum >
Arcadia Round - Luminous Face AEW 1086 14
AEW 1098 14
AEW 1106 14
AEW 1126 14
AEW 1134 14
AEW 1142 14 PT28 Dark Stainless* PT29 Red Brass* PT31 Medium Bronze* ES1 Embossed Stainless Steel-Linear Pattern PT32 Dark Bronze* PT46 Aluminum PT47 Deep Red Brass PT48 Brass*Indicates glossy paint. PT49 Bronze >
For our full finish offering, visit www.spilighting.com/finishes. Contact finishes@spilighting.com for finish samples. For custom colors, please contact factory.
17 size="-1">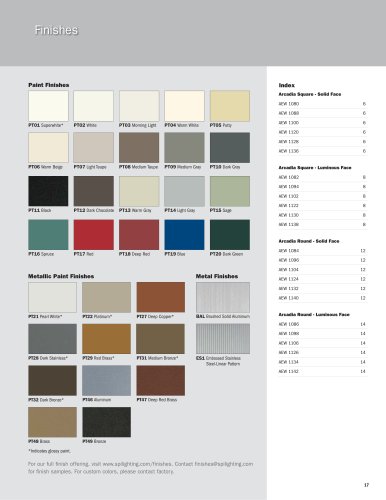 P. 14

Arcadia Exterior Sconce UND HOUSING, SOLID FACE OPTIONS O I o Specifications: Mounts to a standard 4" octagonal junction box....

P. 15

ALTERNATEFINISH(S)OPTIONVOLTAGELAMPING BASEFINISHSTYLE Sample model number: AEW 1096 - PT07 - 1M39 - 120 - SBC - AF2:PT10 SELECT STYLE SELECT BASE...

P. 16

Arcadia Exterior Sconce UND HOUSING, LUMINOUS CENT SINGLE PANEL FACE TWO PANEL FACE FOUR PANEL FACE 80" B 8f m 8.0"...

P. 17

ALTERNATEFINISH(S) STYLEBASEFINISHLAMPING VOLTAGE OPTION Sample model number: AEW 1106 - PT18 - 1T100 - 120 - 45RT - AF2:PT06 - AF3:PT18 - AF4:PT06 SELECT...

P. 18

terior Sconce Arcadia Technical Notes Electronic Ballasts Photometry 1300 650 Remote Ballast Kit Dimensions ...

P. 20

ARCHITECTURAL LIGHTING Pendant Advents extensive pendant selection features luminous acrylic bowls and cylinders as well as opal glass and spun metal...
Text version
All SPI Lighting catalogues and technical brochures
SPI Product Guide

304 Pages
Archived catalogues