WETS 9000-1.28 -
2 Pages
DESCRIPTION
Complete two piece vitreous china, elongated, floor
mounted toilet tank system.
Flush Cycle
ƒxModel WETS-9000.9010-1.28 gpf/4.8 Lpf (Left Handle)
• ST-9000-A 1.28 Bowl
• ST-9010-A 1.28 Left Handle Tank
ƒxModel WETS-9000.9110-1.28 gpf/4.8 Lpf (Right
Handle)
• ST-9000-A 1.28 Bowl
• ST-9110-A 1.28 Right Handle Tank
This space for Architect/Engineer approval
Job Name Date
Model Specified Quantity
Variations Specified
Customer/Wholesaler
Contractor
Architect
The information contained in this document is subject to change without notice.
Sloan Valve Company
10500 Seymour Avenue
Franklin Park, IL 60131
Phone: 1-800-9-VALVE-9 (982-5839)
or 1-847-671-4300
Fax: 1-800-447-8329
or 1-847-671-4380
www.sloanvalve.com
SPECIFICATIONS
Quiet, two piece toilet tank system with vitreous china
floor mounted elongated water closet and compact tank
for left handle or right handle with the following features:
Two Piece Toilet System
• Contemporary design
• Siphon jet flushing action
• Depending on model selected, available with a right or
left handle
• Quiet powerful gravity flush
• Elongated bowl
• 12" rough-in
• 3" valve opening for better flush performance
• Vitreous china
• Integral trap
• Color matched floor caps
• 2 1/8" fully glazed trapway
• Water pressure range: 25 to 80 PSI
• Tank and bowl must be ordered as two (2) separate
items
• Water spot area 7 7/8" x 6 1/4"
• Easy handle actuation
• Water supply not included
• Toilet seat not included
• Compatible with toilet seat models:
Olsonite 10CT, Bemis 1955CT & Church
Commercial 295CT
• Toilet tank system is in compliance to the applicable
sections of ASME A112.19.2/CSA B45.0/CSA B45.1
FEATURES
Performance
Sloan's toilet tank system incorporates a high performance
flapper flush valve to ensure an efficient and optimum
flushing performance. 3" valve opening offers better waste
removal and powerfully clears the bowl.
Colors and Accessories
Available in the color White with polished chrome left or
right trip handle. For additional information refer to our
price book.
Functional
The tank valve provides a 1.28 gpf low consumption flush.
Durable construction provides non-corrosive dependability.
Anti-siphon ballcock allows reliable operation at high or
low water pressures. Adjustment screw allows water level
adjustment for individual preference.
Economical
High Efficiency Toilet tank system provides additional
savings in water usage. Reduces maintenance and
operation costs. Designed for commercial use and also
ideal for residential.
Warranty
3 year (limited)
Model
WETS 9000-1.28
Two Piece Floor Mounted Elongated Toilet Tank System
Copyright © 2010 Sloan Valve Company
Rev. 0b (07/10)
Left Handle Model Shown
Gravity Series
Product Specification
Elongated toilet tank system shall be made of vitreous
china. Toilet tank system shall be installed at required
height of 29" from floor to top of tank fixture.Toilet tank
system shall be floor mounted. Toilet tank system shall
include floor mount bolts and caps. Toilet tank system
shall be a high efficiency 1.28 gpf. Toilet tank system
shall be Sloan model WETS-9000.9010-1.28 (left
handle) or Sloan model WETS-9000.9110-1.28 (right
handle).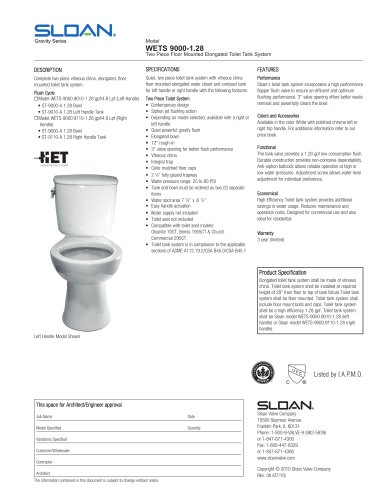 Text version
All Sloan catalogues and technical brochures
Archived catalogues