Booth
Skyline Design
Catalogues

News

Exhibitions
Crosshatch -
1 Pages
Skyline Design | MADE IN CHICAGO | 888-278-4660 | skydesign.com | sales@skydesign.com
Treatment Option A
Please note: illlustrations indicate pattern scale and density only.
Applied finishes and techniques may affect the overall appearance.
Side 1: Eco-etch® pattern on clear field; no sealer
Suzanne Tick Glass™
Crosshatch
Suzanne Tick Glass™ | Crosshatch
© Suzanne Tick 2008
Full-Scale Artwork Panel Shown: 3.. x 8.. Scale: 1½ = 1.. 0½
Applications / Skyline Design applications are available in nearly any glass
thickness, type or make-up, including monolithic and laminated make-ups,
fire-rated glass, mirrors and more. Skyline's decorative finishes may be applied
to tempered glass to meet safety and building code requirements.
The general maximum size limitation for pattern application is 72" x 144."
Certain applications may not be available on all glass types and/or
thicknesses, and surcharges may apply to oversized or heavy glass.
Please contact Skyline Design for more information.
Eco-etch® / Skyline's proprietary eco-etch application utilizes aluminum
oxide etching to provide a fine, consistent finish in contrast to the irregular
surfaces created by frit processes. Glass may be eco-etched on both sides to
create more depth and dimension than frit processes, which are applicable to
one side only, or laminates, which exploit a patterned interlayer sandwiched
between two glass sheets. All large eco-etch areas are protected by Skyline
Etch Sealer.
Skyline Etch Sealer™ / All large-scale eco-etch patterns and surfaces are
protected by our low-VOC Skyline Etch Sealer for easy maintenance. Skyline
Etch Sealer helps protect the finished glass surface, resisting fingerprints
and discoloration over time. The sealer does not change the appearance of
the etched finish in any way, nor does it contain lacquers, varnishes or glass
waxes that may yellow and tarnish with age (as do most sealers).
Contact / For more information on specifying Skyline Design glass, please
contact us by phone or email at 888-278-4660 or sales@skydesign.com.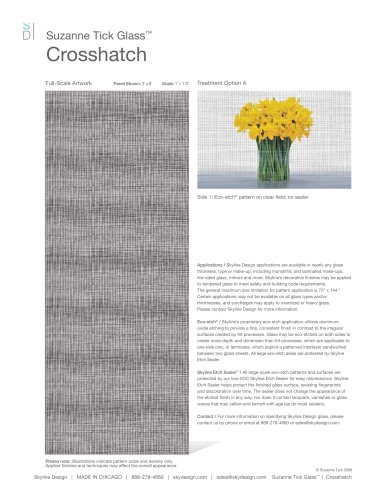 Text version
All Skyline Design catalogues and technical brochures