Warewasher -
4 Pages
LV-55/65
LV- 65/65
LV-125/80
LV-8/50
Grande capacité de stockage pour
accueillir des ustensiles de grandes
dimensions.
Une machine idéale pour laver les
bassines, casseroles, plaques, paniers de
transport, containers ou ustensiles de
travail.
Ample zone de stockage et grande
puissance de lavage.
With a greater storage area for washing
larger utensils. This machine is ideal for
washing pots, saucepans, traus,
transport baskets, containers and
working utensils.
Large storage area and high washing
capacity.
LV-55/65
LV-8/50
LV- 65/65 LV-125/80
Cesta de lavado amplia. Elevada potencia
de lavado.
Gran cesta de lavado para introducir
los utensilios más grandes.
Una máquina ideal para el lavado de
cazos, peroles, bandejas, cestas de
transporte, contenedores o utensilios
de trabajo.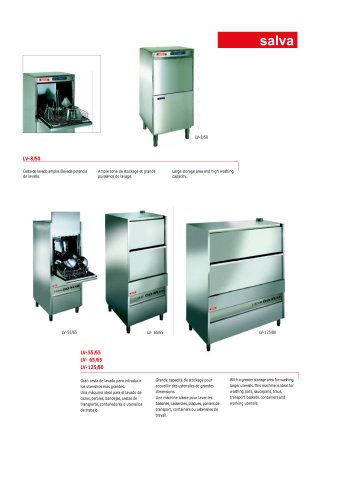 Text version
All salva catalogues and technical brochures