Booth:

Saeco
Group: philips
7P PLUS -
64 Pages
To program price 1, press the DOWN button. The display will show 001. Press theENTER button to display and modify the price 1 value.Follow the same procedure to modify price 2, if desired.To set the value to 000, press the CLEAR button. Should the machine be programmed
to have two different prices, price 1 should always be lower than or equal to price
2.
If a few products will be dispensed free-of-charge and others will have prices,
program by assigning a free-vend value 000 to price 1 and the required paymentvalue to price 2 ; then use the machine programmer to assign price 1 to the free-of-charge products.
To program the machine to have one price only, enter the same value for both price
1 and price 2, then use the machine programmer to program all the products to have >
COINS ACCEPTED ESPRESSO UP buttonDOWN buttonCLEAR buttonENTER button ESPRESSO WITHA DASH OF MILK CAPPUCCINOLONGESPRESSO Fig. 18 either price 1 or price 2. The machine will automatically set both price 1 and price 2 to 000; therefore, if the two values are not changed,the machine will continue to dispense only free-of-charge products. Price2Ӕ programming example Press the UP button. The message 000 is displayed.ՕPress the UP button twice. The display will show the menu 2 (price 2).
Press the ENTER button. The display will show 000.ՕPress the UP button. The display will show the lowest possible setting.Press the UP button until the required value is reached (e.g. 800).
ՕPress the ENTER button to save the value. The display will show menu 2 again.
Press the CLEAR button to go back to the initial menu.
ՕPress ENTER to quit the programming mode. To assign the beverage price, use the 7P Programmer.Programming the coin valueThe coin value must be changed according to the coiner programming. Set the values relevant to each coin recognised by the coiner (see the table on the coiner), according to the limits set forth on thelabel of the nation key envelope. To program values, follow the procedure below :From the 000 menu, press the UP button to move to the A-1 menu.ՕPress the ENTER button to display and modify the value of the coin accepted by coiner channel 1.By pressing the UP button, the displayed value is increased; it is decreased by pressing the DOWN button.
ՕAfter having set the required value, press ENTER to confirm. The value is stored and A-1 is automatically displayed again.In order to program the channel 2 coin value, press the UP button; the display will show A-2.ՕPress ENTER to display and modify the value of the coin accepted by channel 2.
The CLEAR button may be pressed to set the value to the smallest coin accepted by the coiner. The equipment is pre-set to thecoin values shown on the coiner data plate. Tokens are assigned a value which is equal to that of the smallest coin accepted bythe coiner. The RS 232 male serial connector (30) is used to operate SAECO CARD only. >
բ؞
29
English size="-2">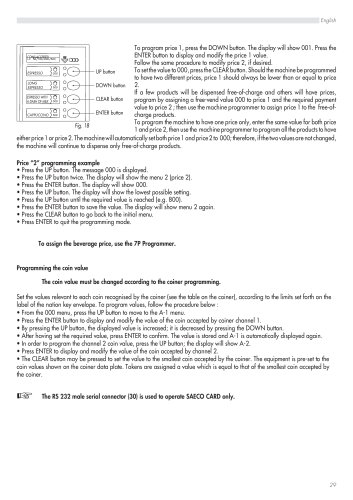 P. 24

6 - STORAGE AND UNPACKING Storage The machine is packed into a sturdy cardboard box with a rein-forced platform, as shown in figure 4. The boxed machine...

P. 25

8 - INSTALLATION 40 Remove the cabinet from the box, taking out all parts packed inside it.Օ Insert the drip funnel (40) into the surface of the...

P. 26

8.3 Electrical connection The equipment has been manufactured for a single-phase voltage, as shown on the rating plate (Fig. 3). Before plugging in the...

P. 27

Turn the machine on (main switch on back of the machine to position "1"), then run arinse cycle through the water system, following the procedure below...

P. 28

COINS ACCEPTED Button functions >ESPRESSO UP buttonDOWN buttonCLEAR buttonENTER button 1st BUTTON (UP button) : It is used to scroll up the menus and...

P. 30

8.7 Assembly of the NRI G26 coin changer ☞☞ Only an executive type coiner can be used with this equipment. Assemble the metal cable stopper...

P. 31

9 - OPERATION AND RE-FILLING PRODUCTS 9.1 Beverage dispensing Insert the correct amount of change (40) corresponding to the price of the beverage selected.ՕIf...

P. 32

Attention: Cup tubes have dimensions suitable for cups with a max. diameter of 70 mm;cups having a diameter of 58 mm (fig. 27) can also be used by inserting...

P. 33

Mixers and dispensing tubes: Remove the dispensing tubes (7) paying particular attention to the end gaskets. Removethe whipper cap (4) and separate the...

P. 34

Switch off the machine, open the door, introduce key 33 into the sensor switch, and then simultaneously turn on the machine andpress button 28. The first...
Text version
All Saeco catalogues and technical brochures
EXPORT - CATALOGUE

21 Pages
Archived catalogues