Grandis & Piemonte -
5 Pages
Glamorous decorative weaves and sumptuous cut velvets are
presented in two opulent collections. Grandis Decorative Weaves
features magnificent jacquard damasks woven from a lustrous cotton
blend, luxurious silk geometrics, smart taffetas and a stunning
reversible silk damask. Piemonte Decorative Velvets incorporates a
sensuous range of multi-stripes, an eye-catching geometric and
coordinating ribbed plain. With complementary colour palettes of
rich jewel-like shades, Grandis and Piemonte perfectly combine to
create a lavish statement for drapes and upholstery.
Grandis & Piemonte
This page: DRAPES Venetia Alpine. CHAIR Avenza Azure. CUSHION Rosario Cactus. Chair by Robert Langford.
Front cover: SOFA Piemonte Cactus. WALLCOVERING Grandis Linden.
CHAIR Estella Azure. CUSHION Morelli Cactus. WALLCOVERING Estella Azure.
Top: FABRICS Avenza Cactus, Morelli Cactus, Piemonte Cactus.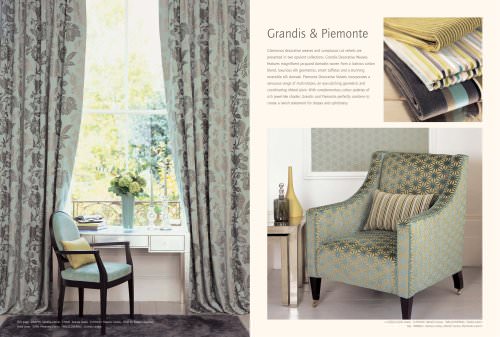 Text version
Archived catalogues