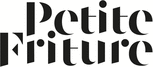 Booth
Petite Friture

Petite Friture 2012 -
18 Pages
MOIRE
Thought of as a garment, the Moire lamp by
Marc Sarrazin plays with the lampshade
typology to generate an elementary volume
that reveals different light qualities. It can
be hung from the ceiling or wall, or put on a
table or the floor.
WILD THINGS
Wildthings by Pierre Favresse offers a fantastic
sensory experience under the innocent form of
a container: feel what could be a contact with
inaccessible animals that are extinct, dangerous,
far away, or even mythological. Wildthings is both
a functional and a dream object.
16
17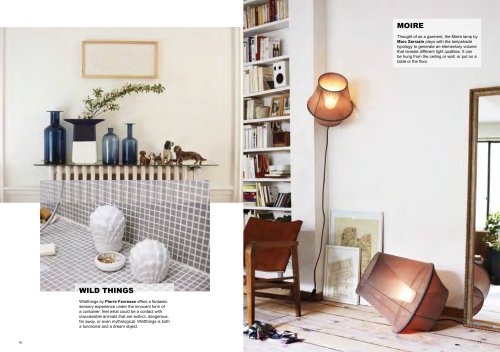 P. 5

FRANCISThe Francis mirror by ConstanceGuisset came from an experience:pigments vanishing on water. Theresult is a bright oxidation. Make uppalette or ageing...

P. 6

HOLLOSimple, with only one material, these Hollotables and stools by Amandine Chhor andAissa Logerot use industrial codes and givepriority to usage and...

P. 7

SINUSWith their clinical and functional aspect,these Sinus salt /pepper mills designedby Jens Fager have a place on everytable! The sinusoidal curves of...

P. 8

LOOPLoop by Amandine Chhor is about generatingnew curves out of the constraints of the industrialproduction of trolleys. The result is a poetic shelf,ideal...

P. 9

SWELLThought of for the office or home, Swellby Luca Nichetto, with its interior wave,borrows its name from surfing jargon. Thewave has a functional purpose:...

P. 11

FURNITUREPRINCIPAL COLLECTIONLOOPSEGMENTHOLLOSteel and epoxyWood, brass or pewterSteel and epoxyL 158 x W 15 x H 35 cmRef. M0090101 - WhiteRef. M0090102...

P. 12

LIGHTINGPRINCIPAL COLLECTIONMOIRETIDELIGHTVERTIGOPolyester and steelGlass and corkFibre glass, iron and polyurethane220-240V 50-60HzE27 - Max 20W CFLMax...

P. 13

OBJECTSPRINCIPAL COLLECTIONSINUSBAMBOUAluminum, epoxy and ceramicSMALLD 5,5 x H 16 cmRef. T0060106 - Light GreyRef. T0060107 - Dark GreyJENS FAGERSALT...

P. 14

OBJECTSPRINCIPAL COLLECTIONWILD THINGSCURIOSITYPorcelainCeramicConcreteSMALLD 10 x H 13 cmRef. T0120101 - WhiteD 12,5 x H 28 cmRef. T0200101 - WhitePENCIL...

P. 15

OBJECTSPRINCIPAL COLLECTIONIKEBANAGRANDISSANTNARCISOCeramicConcreteGlass and PolymirrorSMALLL 27 x W 15 x H 29 cmRef. D0050103 - CaramelRef. D0050104 -...
Text version
Archived catalogues
Petite Friture

30 Pages