ES30C/ES31C Series Positioning System -
4 Pages
TECHNICAL SPECIFICATIONS
ADDITIONAL PRODUCT FEATURES
• Deterrent Surveillance
• Integral Multiprotocol (Coaxitron
®
, RS-422 Pelco D and Pelco P Protocols)
Receiver/Driver
• Digital Position and Zoom Control and Feedback Using Pelco D Protocol
• Integral Camera Enclosure
• Operational in 90 mph Winds, Can Withstand Wind Velocity up to
130 mph
• Pan Preset Speed of 100°/Sec in 50 mph Winds and 50°/Sec in 90 mph
Winds
• Variable Scan Speeds (1 to 40°/Sec)
• Translator Boards for Selected Competitive Protocols
• Easy to Install: Quick and simple electrical connections
• 24 VAC or 120/230 VAC Selectable
• Full Continuous-Duty Warranty
• 850 nm and 950 nm Active IR Illumination Focus Algorithms (24X and 35X
models only)
SOFTWARE/HARDWARE
• 64 Programmable Presets with Labels
• Auto, Frame, and Random Scan
• Programmable Power-up Mode
• Programmable Park
• Programmable Manual Limit Stops (Pan)
• Programmable Scan Limit Stops (Pan)
• Patterns
• Proportional Pan/Tilt
• 8 Zones (programmable in size) Can Be Labeled with up to 20 Characters
Each
• Up to 8 Zones (programmable in size) Can Be Set to Output Blank Video
• 10-Inch Integrated Enclosure with Pre-Assembled, IOP Camera
• Sun Shroud, Heater/Window Defroster, and Insulation All Standard
• 1 Auxiliary Output
• Integrated Window Wiper with Programmable Delay and Shut-Off
(ES31C Models)
ELECTRICAL
Input Voltage 24, 120, or 230 VAC, 50/60 Hz; switch
selectable for 120/230 VAC inputs
Input Voltage Range ±10%
Power Consumption Maximum 70 VA per system
Heater and Defroster Thermostatically controlled
Electrical Connections 2 power source connections made at mount
location with wire splices and 1 ground wire
splice; 1 BNC receptacle and 4 wire splices at
mount location for RS-422 Pelco D and Pelco P
protocols; 2 wire splices for open collector
auxiliary output
Aux 2 Open collector output with 2-second
activation; connected relay must require no
more than 32 VDC and 40 mA to energize relay
coil; wire length between Esprit and relay
must be less than 100 ft (30 m)
Video Coaxial Cable
Max. Wiring Distances Cable Type* Maximum Distance
RG59/U 750 ft (229 m)
RG6/U 1,000 ft (305 m)
RG11/U 1,500 ft (457 m)
*Minimum cable requirements:
75-ohms impedance; all-copper center conductor; all copper braided shield
with 95% braid coverage
MECHANICAL
Pan Movement 360° Continuous pan rotation
Vertical Tilt Unobstructed +33° to –83°
Variable Pan/Tilt Speed
Pan 0.1° to 40°/sec variable-speed operation,
100°/sec Turbo
Tilt 0.1° to 20°/sec variable-speed operation
Preset Speeds
Pan 100°/sec
Tilt 30°/sec
Camera Mounting Integrated camera sled assembly
Latches One link-lock, No. 3 stainless-steel latch; can
be secured with padlock (not supplied)
GENERAL
Construction Die-cast, extruded and sheet aluminum;
stainless steel hardware
Finish Gray polyester powder coat
Viewing Window 0.23" (5.84 mm) thick, optically clear impact/
scratch-resistant coated Lexan
®
Operating Temperature –50° to 122°F (–45° to 50°C) for sustained
system operation or 140°F (60°C) absolute
maximum. Within two hours after power-up,
the entire unit can de-ice and be operational
from a temperature of –13°F (–25°C).
Operating Environment Will remain operational in 90 mph wind
conditions; withstands 130 mph
Weight With With
Pedestal Adapter Wall Mount
Unit
Standard with IOP 20 lb (9.0 kg) 22 lb (9.9 kg)
With Wiper and IOP 21 lb (9.5 kg) 23 lb (10.4 kg)
Shipping
Standard with IOP 25 lb (11.3 kg) 28 lb (12.6 kg)
With Wiper and IOP 26 lb (11.7 kg) 29 lb (13.1 kg)
CERTIFICATIONS/RATINGS/PATENTS
• CE, Class B
• FCC, Class B
• UL/cUL Listed
• C-Tick
• Meets NEMA Type 4X and IP66 standards
• U.S. Patents 340,940 and 5,224,675
5.2
(13.3)
3.9
(9.9)
7.7
(19.7)
9.8
(24.9)
14.6
(37.0)
13.3
(33.9)
17.45
(44.32)
7.9
(20.0)
3.6
(9.1)
NOTE: VALUES IN PARENTHESES ARE CENTIMETERS;
ALL OTHERS ARE INCHES.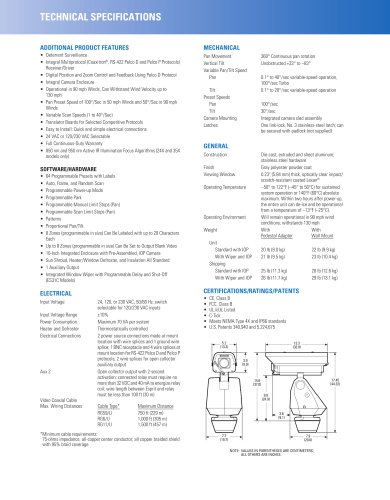 Text version
All PELCO catalogues and technical brochures