Booth
OPTEX Security
WonderTrack- Sensor Light Camera -
2 Pages
Sensor Light Camera
DCL-400
More Functional and Efficient Security Sensor Light Camera
The DCL-400 accurately detects humans, automatically switches its light on and captures those important images. The New DCL-400 sensor camera and light is designed to be more aesthetic and adaptable to the needs of the user than ever before. It has uses for security and amenity applications.
The angles of sensor camera section and light section can be adjusted separately.Detection area and camera view are preset for perfect alignment.Front configuration switches make settings adjustments easier, even after installation.
Detector's activation can be linked with another external sensor.Light activation (on/off) as optionWeather proof construction for outdoor use >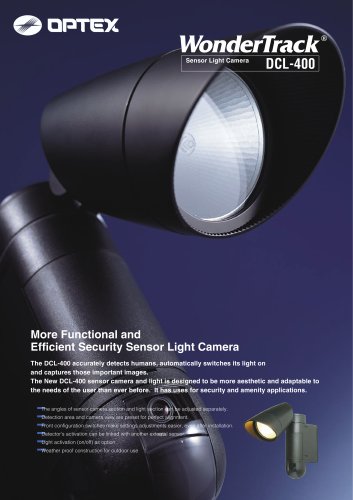 P. 2

When the DCL-400's built-in sensor detects a human, its camera is triggered to capture those images. The unit is also fitted with a powerful light as an...
Text version
All OPTEX Security catalogues and technical brochures
Archived catalogues