OMVIVO SPECIFICATION CATALOGUE -
136 Pages
design Marc Pascal
edition two
Note: due to varying manufacturing methods, the dimensions illustrated here are nominal and subject to change.
Omvivo has detailed, to the best of its ability, the most approximate measurement possible for each product
given the method of manufacturing used.
Omvivo Pty Ltd Schiavello Complex T: + 61 3 9339 8130
1 Sharps Road Tullamarine F: + 61 3 9330 8611
Victoria Australia 3043 info@omvivo.com www.omvivo.com
Eyoi yoi
Available finishes
Each Eyoi yoi lamp is hand made.
The colours for the lamp can be selected using available images
and brochures or a Dulux colour chart.
Assembly
The Eyoi yoi is supplied with either a G9 75W Halogen globe or
ES Eddison 15W warm white. Please specify at time of ordering.
Cleaning
Clean with a light dust or with a soft damp cloth.
Recommended fittings and set up
The Eyoi yoi light collection incorporates modern, sophisticated
fittings that add creative elegance to any room. The range includes
a pendant light, table lamp and standard floor lamp. The Eyoi yoi
will suit either a G9 75W Halogen globe or ES Eddison 15-20W
warm white, depending on which is specified at time of ordering.
A licensed electrician should install all hardwired fittings.
Important
This is not an installation guide.
Please contact OMVIVO for technical details.
Product specifications are subject to alteration without notice.
©OMVIVO Pty Ltd. 2001.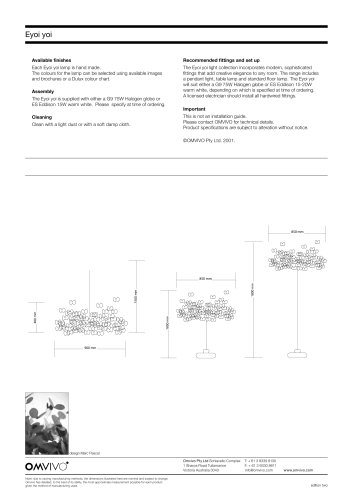 P. 123

edition twoNote: due to varying manufacturing methods, the dimensions illustrated here are nominal and subject to change.Omvivo has detailed, to the best...

P. 124

edition twoHalo Floor Waste

P. 125

edition twoNote: due to varying manufacturing methods, the dimensions illustrated here are nominal and subject to change.Omvivo has detailed, to the best...

P. 126

edition twoThe Omvivo lighting range consists of unique,handcrafted light fittings. Every piece is distinctiveand contemporary, destined to become a designicon....

P. 127

edition twoEyoi yoi

P. 129

edition twoWorvo

P. 130

design Marc Pascaledition twoNote: due to varying manufacturing methods, the dimensions illustrated here are nominal and subject to change.Omvivo has detailed,...

P. 131

edition twoUleabe

P. 132

design Marc Pascaledition twoNote: due to varying manufacturing methods, the dimensions illustrated here are nominal and subject to change.Omvivo has detailed,...

P. 133

edition twoXploff
Text version
All Omvivo catalogues and technical brochures