Booth
Omnidecor
Decorgem design -
13 Pages
104105
öâåòîâûå ãàììû è èíäèâèäóàëüíîñòü
A patented OmniDecor® technological process: colors are blended in the
glass at high temperatures, along with highly distinctive patterns, either "tone
over tone" a dark background and smooth enamel surface, or in an alternation
between "translucent and opaque" an acid-etched surface over a colored
and polished background.
A wide-ranging creativity on a material platform perfectly suitable for both
interior and exterior applications. Basic colors and a strong personality, the
dynamic games of light and the alternating contrast between opaque and
translucent, smooth and acid-etched, along with a vast choice of patterns,
bring to life both interior environments and architectonic buildings, taking
maximum advantage of the surrounding light, coming to the fore in an everchanging
dominance, consistently at the edge of design and technology.
colour and personality
Ýêñêëþçèâíûé òåõíîëîãè÷åñêèé ïðîöåññ OmniDecor®: ðàñïëàâëåíèå
öâåòíûõ ïèãìåíòîâ â ñòåêëå ïðè âûñîêîé òåìïåðàòóðå ñ äåêîðèðóþùèì
ýôôåêòîì "òîí íà òîí" íà òåìíîì ôîíå è íà ãëÿíöåâîé ãëàçèðîâàííîé
ïîâåðõíîñòè, èëè æå ñ ýôôåêòîì "ãëÿíöåâûé/ìàòîâûé" íà öâåòíîé
ãëÿíöåâîé äâåðãíóòîé ñàòèíèðîâàíèþ.
Âñåîáúåìëþùåå âîïëîùåíèå òâîð÷åñêîé ìûñëè íà ìàòåðèàëüíîé
îñíîâå, ÷òî îáåñïå÷èâàåò ïðèãîäíîñòü êàê äëÿ âíóòðåííåãî, òàê
è äëÿ íàðóæíîãî ïðèìåíåíèÿ. Ñèëüíûå öâåòîâûå ãàììû ñ ÿðêîé
èíäèâèäóàëüíîñòüþ, äèíàìèçì èãðû ñâåòà è ÷åðåäîâàíèå êîíòðàñòîâ
ìàòîâîñòè è ïðîçðà÷íîñòè, ïðîñâå÷èâàþùåãî è ñàòèíèðîâàííîãî
ìàòåðèàëà â ñî÷åòàíèè ñ øèðîêîé ãàììîé óçîðîâ ïîçâîëÿþò ñîçäàâàòü
èíòåðüåðû ñ äèçàéíîì àðõèòåêòóðíûõ ñîîðóæåíèé, ñ ìàêñèìàëüíûì
èñïîëüçîâàíèåì îêðóæàþùåãî ñâåòà: âñå ýòî âûâîäèò íà ïåðâûé ïëàí
àâàíãàðäèñòñêèé äèçàéí è ïðîãðåññèâíóþ òåõíîëîãèþ.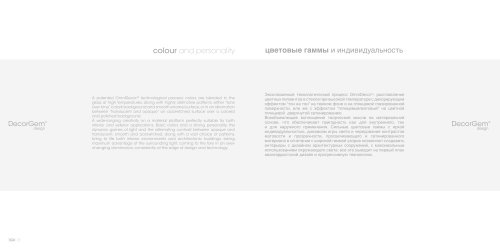 P. 1

OmniDecor®

P. 2

102103Un processo tecnologico esclusivo di OmniDecor®: la fusione del colore nelvetro ad alte temperature con decorazioni ad effetto "tono su...

P. 4

106107

P. 5

108109

P. 6

110111

P. 7

112113

P. 8

114115
Text version
All Omnidecor catalogues and technical brochures