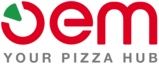 Booth

OEM
Group: Ali group

OEM Optymo -
16 Pages
Easy maintenance
Per tutte le operazioni di
manutenzione non devi più
mettere a soqquadro il locale
Minor tempo e facilità d'intervento:
stop ai fermi prolungati, un vero euro-risparmio
For every maintenance operation
there is no need to mess the
premises up
Less time and easiness of operation:
no more forced stops, a true Euro-saving
Tutto in luce:
basta zone d'ombra
2 lampade di illuminazione alogene da
12 volt ad accensione e spegnimento soft
facilmente sostituibili, sempre dal frontale
Everything under the light,
no more shadows
2 halogen lamps at 12 volt, which can
be soft turned on and off, easily replaceable,
always from the front
Pannello comandi removibile
tramite guide
Control panel to be removed
through guides
P. 6

Tutto sotto controllo! Un computer dì bordo, facile ed intuitivo Easy and intuitive onboard computer Segnali d'attenzione musicali Musical...

P. 7

Everything under control! Guadagni tempo. Forno sempre pulito in automatico con funzione di autopulizia a 400°C ... alla fine si spegne...

P. 8

Consumí ridotti Low power consumption Fuori è freddo (max50°C) Forno freddo esternamente a riprova di un grande isolamento ottenuto con...

P. 9

Niente più cappa No more hood r-\ Modulo d'aspirazione integrato e dedicato per ogni camera Il sistema d'aspirazione calibrato incanala...

P. 10

Manutenzione facilitata Tutta la manutezione dal frontale, per riprendere subito la produzione The entire maintenance system can be carried out from...

P. 12

Come lo scegli? How do I chooseì Si individua la tipologia di pizza che si desidera produrre, tonda diametro 30cm, 35cm, 45cm oppure teglia...

P. 13

Produttività oraria Hourly productivity TAB. modelli - PRODUTTIVITÀ MEDIA ORARIA TAB. models - AVERAGE PRODUCTIVITY PER HOUR 30 Nr....

P. 14

Le misure del calorecm113,7188,735121,866,9P35LKP98,779,6166,43586,8LKP146,4K113,794,651,8LFinalmente un supporto "alla tua altezza",con le...

P. 15

Heat measurementsModelli - ModelsOPTYMO series 35435635 S635L935KIT435 +OPTYMO 435E121 x 105 x 52kW Max 5,4Kg 155KIT635S +OPTYMO 635SE121 x 140 x 52kW...

P. 16

All GROUP I* & E ® « CH « exceeding Your expectations o e m - ALI Spa Viale Lombardia, 33 - 46012 Bozzolo, (MN)...
Text version
All OEM catalogues and technical brochures
Archived catalogues