Appia( EN, IT, FR, ES, DE ) -

12

/ 16 Pages
VOLUMETRICA / VOLUMETRIC
SEMIAUTOMATICA / SEMIAUTOMATIC
La versione Volumetrica presenta una
pulsantiera rinnovata con comandi
touch control. Nuove ed utili funzioni
sono state aggiunte, come il pratico
sistema di "lavaggio automatico".
The Volumetric version has an upgraded
switchboard with touch control commands.
Some new and useful functions
have been added like the practical
"automatic washing" system.
Le modèle Volumétrique présente un
plan des commandes renouvelé avec
des touches touch control. Des fonctions
nouvelles et utiles ont été ajoutées, comme le
système pratique de «lavage automatique».
Die volumetrische Version besitzt neue
Schaltknöpfe mit "Touch control" Neue
Funktionen wie die automatische
Gruppenreinigung sind nun ebenfalls in der
Grundausstattung enthalten.
La versión Volumetrica presenta un
panel de mandos renovado con mandos
touch control. Nuevas y útiles funciones
han sido añadidas, como el práctico
sistema de "lavado automático."
2 GR
Appia è disponibile sia nella versione
"Semiautomatica" ed "Automatica"
a 2 e 3 gruppi.
Appia is available both in the
"Semiautomatic" and "Automatic"
versions with 2 and 3 groups.
Appia est disponible soit dans le modèle
«Semiautomatique» soit «Automatique»
à 2 et 3 groupes.
Neben der Version "Standard" mit schwarzen
Seitenteilen ist die Appia auch in der Version
"LUX" in schwarz oder silver mit verchromten
Seitenteilen lieferbar. So macht die Appia in
jedem Falle eine gute Figur.
Appia está disponible sea en la versión
"Semiautomática" y "Automática"
a 2 y 3 grupos.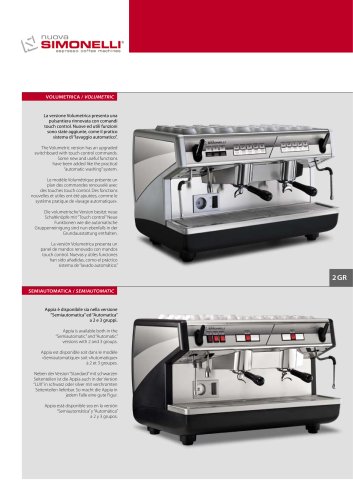 Text version
All Nuova Simonelli catalogues and technical brochures
Archived catalogues