Decorative shutters -
2 Pages
assop
Choice of several colors
I Forest green #015
Black #002
Grey #004
Blue grey #006
Dark blue #014
Burgundy #013
Green #003
NOVIPRO™
DECORATIVE EXTERIOR SHUTTERS
Charcoal #079
Cream #010
The finishing touch to add beauty and charm
Brick #070
Brown #012
z
5
Color-thru
No paint required-ever
LI I
f Maintenance-free
Wedgewood #005
E
a
c싻
cm
Representation of colors may be slightly modified due to the printing process. Check store samples.
Novik Inc. reserves the right to remove colors without notice.
INNOVATIVE POLYMERS
Sandstone #064
Phone: 418 878.6161 Toll-Free: 888 847.8057 e-mail: info@novik.com
Evergreen #076
novik.com
Ultra white #029
INNOVATIVE POLYMERS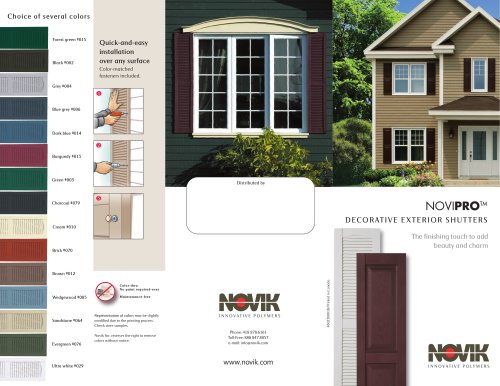 P. 2

NOVI PRO TM CUSTOM DESIGNPROGRAM Various options available NOVI PRO TM STANDARD SHUTTER PROGRAM Decorative exterior Shutters Long lasting...
Text version
All NOVIK catalogues and technical brochures
Archived catalogues