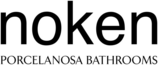 Booth

noken
Group: PORCELANOSA Grupo
SHOWERS NOKEN -
84 Pages
showers20i2
La gama para la ducha de Noken le ofrece una
amplia variedad de productos, que gracias
al poder del agua le permitira disfrutar de
placenteros momentos. Para cada situacion,
un producto especffico; isentir una experiencia
sensorial en una cabina o una energica ducha
que te aporte vitalidad? Noken le presenta una
amplia gama de productos para cuidar de usted
y de los suyos.
The Noken shower program offers you a wide
variety of products, that will allow you to enjoy
pleasant moments thanks to the revitalizing
energy of water. For each situation, a specific
product; whether your prefer a a relaxing
experience of the senses or a powerful shower
that brings you vitality. Noken boosts a wide
range of shower items to take care of you.
BY APPOINTMENT TO
HH.B. THE PRINCE OF WALES
MANUFACTURER AND DISTRIBUTOR
OF CERAMIC TILES AND BUILDING PRODUCTS.
PORCELANOSA GROUP UMTTBD
PORCELANOSA Grupo
P. 1

noken showers

P. 4

La ducha, como la entiende NOKEN, es un objeto de placer por las sensaciones que nos debetransmitir, tanto a nivel funcional como a nivel estético....

P. 5

s h o w e r s 2012SHOWER-CONCEPTS 10essence-c 12soft 13lounge 14giro 16imagine-n 17ROCIADORES / SHOWER HEADS 18essence-c 20lounge 22imagine-n 24soft 25giro 26nk...

P. 6

MULTISPRAYLLUVIA: El chorro más completo, que envuelve y acaricia el cuerpo.VAPOR: Agua vaporizada que produce un efecto relajante sobre la piel,...
Text version
All noken catalogues and technical brochures
Archived catalogues
IRTA COLOURS

6 Pages