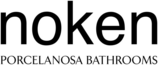 Booth

noken
Group: PORCELANOSA Grupo
SHOWERS NOKEN -
84 Pages
22
Sentir el agua en toda su fuerza primitiva.
Feel the water in all its primitive strength.
El modelo Lounge con doble función es en todos
The Lounge shower with dual function is in every sense
los
verdaderamente
a truly seamless experience. The seduction of this
incomparable. La seducción de este panel de lluvia
sentidos
una
experiencia
horizontal rain shower lies in its unique design. Treat
horizontal radica en su inédito diseño. Regálese con
yourself with a completely new sensation under the
una sensación completamente nueva bajo la ducha,
shower, with total freedom of movement.
con total libertad de movimiento.
The fixed showerhead of 180 mm with rain function
La ducha fija de 180 mm. con función lluvia le invita a
invites you to have a particularly extensive experience
experimentar una experiencia especialmente extensa
or either choose to enjoy the unique and abundant water
o bien dejar que el singular y abundante salto de
cascade to feel the power of a wonderful waterfall.
agua le infunda el poder de una maravillosa cascada.
Greater ease of use: with the matching mixers from the
Mayor comodidad de uso: con la grifería adecuada
Lounge series for extremely easy operation. The types
de la colección Lounge el manejo es sumamente
of water stream can be regulated comfortably from the
confortable. Los tipos de chorro se pueden regular
wall.
cómodamente desde la pared.
P. 17

shower conceptsimagine n17

P. 18

18ROCIADORESSHOWER HEADSSentir la suave caricia del agua de lluvia, elestimulante masaje que nos proporcionan loschorros de agua o el cálido abrazo...

P. 19

19

P. 20

20Conocer la fuerza natural del agua, el rociador Essence-cExperience the natural power of water, the Essence-cofrece una experiencia especial en todos...

P. 21

ROCIADORES / SHOWER HEADSessence-c380556Rociador función lluvia + cascada con conexiones de 1/2".Rain+cascade shower head with ½"...

P. 23

ROCIADORES / SHOWER HEADSlounge550380380550Rociador función lluvia + cascada con conexiones de 1/2".Rain+cascade shower head with ½"...

P. 24

24ROCIADORES / SHOWER HEADSimagine-n210350Rociador función lluvia + cascada con conexiones de 1/2".Rain+cascade shower head with ½"...

P. 25

ROCIADORES / SHOWER HEADSsoft190430Rociador función lluvia + cascada con conexiones de 1/2".Rain+cascade shower head with ½" connectors.cromo...

P. 26

26Con el rociador Giro hemos reinventado la ducha. ElWith the GIRO model Noken has reinvented thediseño extraplano y el extraordinario rociador de...

P. 27

ROCIADORES / SHOWER HEADSgiro27
Text version
All noken catalogues and technical brochures
Archived catalogues
IRTA COLOURS

6 Pages