Booth
N.D.A. NUOVE DIMENSIONI AMBIENTALI
Catalogues

News

Exhibitions
NDA CATALOG -
85 Pages
GENERAL
CATALOGUE
GENERAL
CATALOGUE
the panels of silence
N.D.A. NUOVE DIMENSIONI AMBIENTALI S.R.L.
S.S. Cassia Bis km 36,400
Z.I. Settevene - 01036 Nepi (VT)
Phone +39 0761 527315
Fax +39 0761 527273
Mail info@ndaitalia.it
Home Page www.ndaitalia.it
www.ndaitalia.it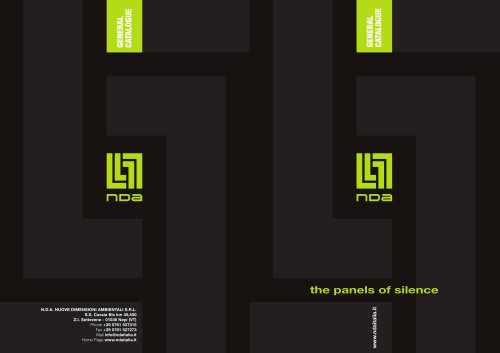 P. 2

Since morethan 20 years N.D.A.,through the rationalexploitation of resources,offers a wide rangeof high-quality products,able to meet all requirementsas...

P. 3

Note: The information and datacontained herein are suppliedin good faith and believed to becorrect. Nevertheless the companycannot be held responsiblefor...

P. 4

SUMMARYSOUND ABSORBERSSOUND INSULATORSACCESSORIESPYRAMID-SHAPEDIsotek - Stop 4Akustik® k - Stop 6PROFILEDIsotek - Foam 8Akustik® k - Foam 10FLATIsotek...

P. 5

MATERIALGrey coloured melamine resinBASF Basotect® t Foam.High thermal resistance product:-60°C +150°C. Nondrip in case of fire, non toxicfumes,...

P. 6

5REACTION TO FIREClass 1 to CSERF/2/75/A and CSE RF3/77 standards.ÖNORM B3800:DIN 4102 B1Q1: low smoke emission.T1: non drip.FIELDSOF APPLICATIONIsotek-Stop...
Text version