Booth
N.D.A. NUOVE DIMENSIONI AMBIENTALI
Catalogues

News

Exhibitions
NDA CATALOG -
85 Pages
73
FIRE REACTION
Class 1.
FIELDS
OF APPLICATION
Pavit-One must be installed
before flooring in order
to improve footfall
sound-insulation. Thanks
to its sound-proofing characteristics
and to its easy
installation, it is used in
any kind of construction
(houses, offices, hospitals,
trade centres, etc.). As
footfall noise is concerned,
Pavit-One has an excellent
sound-proofing
performance giving better
results than what the
law provides for.
INSTALLATION
Pavit-One must be installed
directly over the rough
floor, its extremities must
cover up and the seams
must be fixed by using the
pre-glued self-adhesive
band. Always use AKUSTIK
BORDER perimeter
band.
The installation of WALL
BAND is also recommended
to interrupt the acoustic
bridges between the
rigid structures.
SOUND INSULATORS - UNDERLAY
PHYSICAL PROPERTIES
• Type of material
Polyester fiber (PET)
and polyethylene (PE)
• Weight 490 gr/m2
• Resistance to compression
0,48 (EN 1606)
• Dynamic stiffness
S't= 12
• Impact noise footfalls insulation
32 dB (EN ISO 717-2)
Footfall impact noise insulation: 32 dB (EN ISO 717-2)
.. dB
80
70
60
50
40
30
20
10
0
F (HZ)100 200 400 800 1600 3150
Frequency LnO Ln T
Hz dB dB sec
100 62,3 52,3 10,0
125 62,5 47,7 14,8
160 63,4 41,8 21,7
200 63,7 39,5 24,2
250 64,4 46,9 17,6
315 66,1 49,5 16,6
400 68,7 42,0 26,6
500 69,1 38,3 30,8
630 68,1 38,8 29,4
800 68,9 39,8 29,1
1000 69,2 28,3 40,9
1250 69,8 34,5 35,4
1600 69,5 30,2 39,3
2000 69,3 28,8 40,5
2500 67,4 29,3 38,1
3150 65,6 28,0 37,6
4000 61,7 25,5 36,2
5000 56,2 19,3 37,0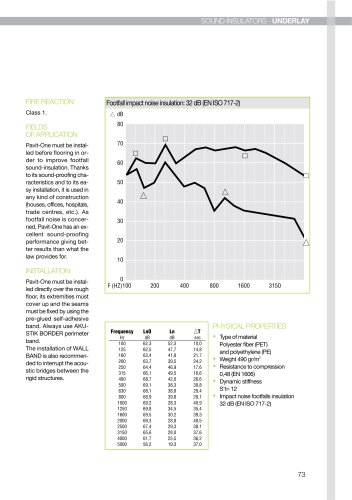 P. 69

MATERIALAkustik® k -PE is a chemicallycross-linked polyethylenewith a cell-closed structure,density 33 Kg/m3, highcompression resistantmaterial with...

P. 70

69REACTION TO FIRECL 2 self-extinguishingmaterial, colour deep grey.CL 1 colour pale grey onrequest.FIELDSOF APPLICATIONAkustik® k -PE is widely usedas...

P. 71

MATERIALEcoroll is obtained from theagglomeration of vulcanisedrubber micro-granules(density720 kg/m3). It is an ecologicalmaterial composedof recycled...

P. 72

Frequency background L1 T Ln Li T LnHz dB dB sec dB dB sec dB100 18,4 57,3 1,56 54,6 57,3 1,56 54,6125 23,6 64,0 1,38 61,8 59,2 1,38 57,0160 13,3 64,0...

P. 73

MATERIALPolyester fiber 6.5 mm thick(density 490 gr/m2), coveredwith a protectivepolyethylene film. Pavit-Oneis tear-resitant and non- toxicmaterial.STANDARDDIMENSIONSWeight:...

P. 75

MATERIALlsoflex - MC1 - MC2antivibration supportsare used for suspendedloads for the purposeof avoiding the transmissionof structuralvibrations from thesuspended...

P. 76

75TECHNICAL TESTINGSample no.: 1.949Reference: 14-11-90.Ceiling support.Test requested:tensile strength.Results obtained:Support Breaking load (kgf)1 threaded...

P. 77

MATERIALFlex 50/27 is an vibrationdampingspacer made ofplastic, to build up coatedplaster walls with a highsound insulation power.The metal framework iscomposed...

P. 78

77EP 400:Vibration damper to beplace between a plasterboardpanel and abrick wall. The side to bescrewed on the metallicstructure of the plasterboardpanel...

P. 79

78MATERIALAkustik®-Border is madeof expanded polyethylene,density 30 kg/m2. It can beeasily installed betweenthe perimeter walls and thefloor. Its...
Text version