Booth:
nanimarquina
NEWS -
1 Pages
Press department. Annachiara Sechi
annachiara@nanimarquina.com
www.nanimarquina.comEsglsia 10 3er D08024 Barcelona (Spain)T 34 932 376 465T 34 932 175 774
Coleccin
El utilizar para la forma de la alfombra NEWS un elemento gr鳡fico de gran impacto visual, muy comn en contextos de comunicacin comercial, permite que su visibilidad no provenga de la gr곡fica aplicada sino de su topologa formal. De esta manera se refuerzan sus cualidades de impacto visual, tambin para elementos asociados.
News
Mart Guix 2006
FotoAlbert Font Very good NEWS!The NEWS rug uses a spectacular graphic element, common in advertising, but with a vitality that comes from its formal topology rather than applied graphics. In this way the visual impact is strengthened for the rug as well as for associated elements.
Very good NEWS!
Color rojo. Colour red. 驘 250 cm / 150 cm
Fibre Technique Manufacture 100% wool(New Zealand) Hand tufted Handmade >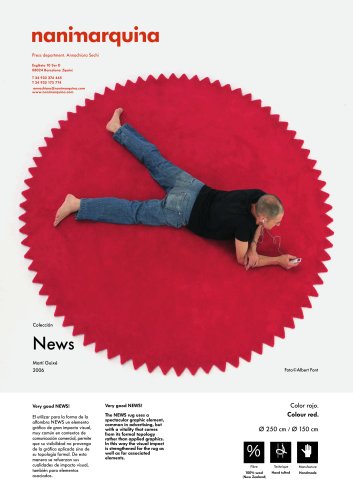 Text version
All nanimarquina catalogues and technical brochures
Archived catalogues