MERO VISION 2009-2010 -
19 Pages
Skylink Terminalausbau
Flughafen Wien
Unser Partner, die rhtb: projekt
Gmbh in Wien erhielt den Auftrag
über Hohlboden und Doppelboden
zur Erweiterung des Terminals
"Skylink" am Wiener Flughafen.
Eine Vielfalt an Varianten des
MERO-Systembodens wurde im
gesamten "Skylink" verbaut. So
musste eine durchgehende Gesamtfläche
von ca. 10.000 m2
zweischaligem trockenem Hohlboden
mit einer Punktlastanforderung
von 12.500 N durch fast
2.000 Laufmeter Dehnfugen in
Sektoren unterteilt werden, die
der Krümmung des Baukörpers
optimal angepasst sind. Zusätzlich
zum Hohlboden wurden sämtliche
Doppelbodenvarianten verlegt,
von der Standardlösung in den
allgemeinen Bürozonen bis hin zu
maßgeschneiderten Sonderlösungen
in den technisch-logistischen
Bereichen. In der Abflughalle wurde
ein mit Teppich applizierter Doppelboden
aus Mineralstoff Typ 6 und
in den Technikräumen ein spezieller
Schwerlastboden Typ 2-600 installiert.
Insgesamt kamen 10.000 m2
MERO-Doppelboden und 10.000 m2
MERO Hohlboden zum Einsatz
Skylink
Terminal Extension
Vienna Airport
Our partner rhtb: projekt
gmbh, Vienna, got the access
and hollow floor contract for the
enlargement of the terminal at
the Vienna Airport, the so-called
"Skylink".
Many different types of MERO
floor systems were installed.
A continuous area of approx.
10,000 sqm of a two-layer dry
hollow floor with a concentrated
load of 12,500 N had to
be divided into different zones
by means of 2,000 meter of
expansion joints, which had to
be adapted to the coving shape
of the building construction.
In addition to the hollow floor,
different types of access floors
were installed in all areas –
standard floors in the office
space and customized floors
in the technical/logistic rooms.
The departure terminal was
provided with type 6/calcium
sulfate with factory-applied
carpet and the technical rooms
with type 2-600 for heavy traffic.
In total, about 10,000 sqm MERO
access and 10,000 sqm MERO
hollow floors were installed.
Auftraggeber/Client:
Flughafen Wien AG
Generalunternehmer/
General Contractor: Gerstl
Architekten/Architects:
ARGE Baumschlager-Eberle
& Moser-Neumann
Auftragnehmer/MERO Partner:
rhtb: projekt GmbH, Wien
Bürohochhaus
Hoch2Plus2, Wien
Auf einem 40.000 m2 großen
Grundstück im zweiten Wiener Gemeindebezirk
entsteht das
"VIERTEL ZWEI". In dem neuen
Stadtteil werden attraktive Büros,
ein Hotel, Restaurants und kleine
Shops, eingebettet in ein durchgän-
2009 von der OMV, Mitteleuropas
größtem Öl- und Gaskonzern, als
Hauptmieter bezogen.
Den Auftrag für die Trockenbau-
und Doppelbodenarbeiten
erhielt unser Partner rhtb: projekt
GmbH, Wien. Allein die Fläche
des Doppelbodens aus Holzwerkstoff
beträgt 38.000 m2.
Office Tower Hoch2Plus2,
Vienna
The new quarter "VIERTEL ZWEI"
(Quarter Two) is emerging right
in the middle of Vienna. 40,000
square meters of new living
space, comprising modern office
and residential buildings and
spacious green areas surrounding
a 5,000 sqm lake is being created.
The most noticeable building
is the vitreous 80 m high
"Hoch2" office building. Early in
2009 "Hoch2" was completely
leased to the OMV AG, which
is the biggest oil and gas company
of Central Europe. Our
partner rhtb: project GmbH,
Vienna got the contract for the
dry construction works as well
as 38,000 sqm wooden floors.
Bauherr/Client: IC Projektentwicklung
GmbH IG Immobilien
Unternehmensgruppe
Generalunternehmer/General
Contractor:
Universale Hochbau, Wien
Architekten/Architects: Henke
Schreieck Architekten, Wien
giges Grünraumkonzept mit eigenem
See, geschaffen.
Als erstes sichtbares Zeichen dieses
neu entstehenden, direkt an den
Wiener Prater angrenzenden Stadtteils,
setzt das 80 m hohe Bürogebäude
einen erfrischenden Kontrast
zu den bestehenden Bürogebäuden.
Das unverwechselbare Bürohaus
im Viertel 2 wurde im Frühjahr
Hohe Lebens- und Arbeitsqualität
High Quality of Living and
Work Places
Extreme Stabilität auf den
Punkt gebracht
Extreme Stability at its Best
Vienna
Austria
26
Bodensysteme
Floor Systems
27
Bodensysteme
Floor Systems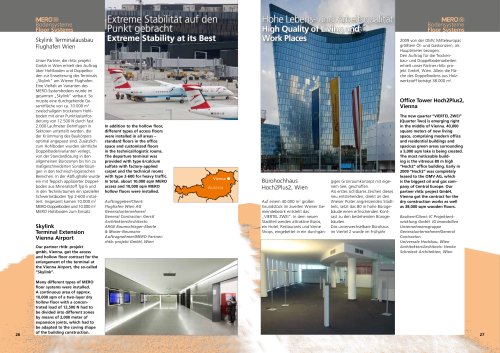 P. 9

ModifikationDurch die MERO Raumfachwerkbauweisebzw. Modulbauweiseerreicht man bei Veränderungenim Wartungsbereich, sei es in Formneuer Flugzeugmodelle...

P. 10

BMW Informations- undTechnologiezentrum(MITZ), MünchenMit dem Neubau des "MünchnerInformations- und Technologiezentrums"(MITZ) hat...

P. 11

Forschungsgebäude füreinen 7-Tesla-Hochfeldtomographen(MRT),Deutsches KrebsforschungszentrumHeidelbergIn diesem Projekt wurden ca.450 m2 trockener...

P. 12

Neues BürogebäudeSchwarzmüller GmbH,HanzingBei diesem Gebäude wurdenca. 79.000 Watt Heizleistungund ca. 39.000 Watt Kühlleistungauf...

P. 13

Sofia Airport CenterDas Sofia Airport Center wird eingepflegter Business Park nach internationalenStandards. Das Konzeptbesteht aus 3 Kernelementenmit...

P. 15

Tour Oxygène, LyonOxygen Tower, LyonBucharestRomaniaWest Gate, BukarestWest Gate, Bucharest12.000 m2MERO DoppelbodenDer "West Gate Industriepark"...

P. 16

a design feature, however, thissystem should at the same timehave a distinctive character.The R-Evolution of the Meroformconstruction system M12 Plus hasachieved...

P. 17

Stäbe und Knoten werden beieinem Messestand als Gerüst fürBlätter eingesetzt, die eine MeroformLeichtbaukuppel tragen. Realisiertwurde...

P. 18

ForschungsexpeditionDeutschlandMit dem Zug durch mehr als 60Städte in der Bundesrepublik:Die "Expedition Zukunft" thematisiertin zwölf...

P. 19

36BausystemeConstruction SystemsMERO Structures Inc.303 Perimeter CenterNorth, Suite 300Atlanta GA 30346 / USAPhone: 001 678 960 8611E-mail: info@mero-structures.comwww.mero-structures.comMERO-SCHMIDLIN...
Text version
Archived catalogues