Full catalogue -
24 Pages
1
introduction 2
1. ridge area roof ventilation 6
2. ridge tile clamps ridge tile installation 8
3. roof tile clips roof tile installation 9
4. roof valley draining water off the roof 10
5. eaves roof ventilation 11
6. chimney area roof flashing 13
7. ventilation tiles building ventilation 14
8. roof walkways safety on the roof 15
9. snow protection safety around the building 17
10. roof underlays attic ventilation 19
11. roof strips and sheets roof flashing 23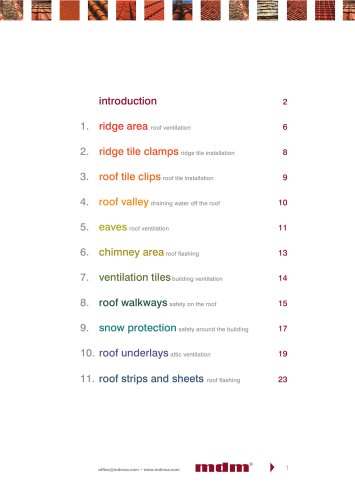 P. 2

2Dear Ladies and Gentlemen,We would like to acquaint you with our new catalogue of products prepared for 2009 and the following years.But before you start...

P. 3

3introductionabout companyThe company was established in 1995 and until the end of 2004 it existed as Mój Dom (meaning: My Home).At the beginning...

P. 4

4introductionabout companyDach und Wand 2004 - MunichRoof+Timber International 2008 - StuttgartBudma 2005 - PoznañBudma 2009 - Poznañ

P. 5

5Trade conditions1. Prices for the products offered in this catalogue and payment conditionsare set individually.2. An order with all the important details...

P. 6

6ridge arearoof ventilationrollable ridge ventsRollable ridge vents ensure proper ventilation of the areabetween the roofing and the bottom layers of the...
Text version