Booth

MAXALTO
Group: B&B Italia

Maxalto News 2012 -
56 Pages
Flat.C, Antonio Citterio
Pab, Studio Kairos:
storage systems
created
to innovate
that always
find neyv
solutions.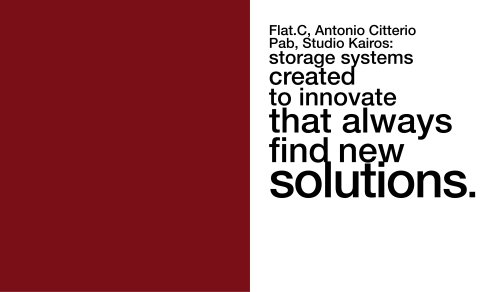 P. 27

Sistema di sedute Seating system Elemento di servizio Service elements Tavolino Small table

P. 28

1 LuisPancaBench2 LuisSistema di seduteSeating system3 MartPoltroneArmchairs24 DiesisTavolinoSmall table5 MeraTavolinoSmall table136 CratisTappetiCarp...

P. 29

Michel, Luis, Frank, J.J., Mera. [•îSiiiT»] raîiTîîii ts. Antonio Citterio 54 In cinque dimensioni...

P. 30

A sinistra/on the left Il sistema Luis si arricchisce dl complementi accostabili agli elementi senza bracciolo. Sono proposti In varie dimensioni...

P. 31

A sinistra/on the leftJ.J.Realizzato in tondino cromato con piano in vetronero, il tavolino J.J. è un piano di servizio universaledi dimensioni contenute.Created...

P. 33

Flat.C Antonio Citterio /62 Sistema a parete fortemente innovativo, tecnologico e di grande eleganza estetica all'Insegna della massima...

P. 34

Fat-Fat Patricia Urquiola and Landscape Jeffrey Bernett I Flat.C...

P. 35

Fat-Fat and Lazy'05 Patricia Urquiola Flat.C Antonio Citterio IO Nelle finiture troviamo l'eleganza discreta del laccato grigio fumo, del chrome-mlrror...

P. 36

El Antonio Citterio I Pathos_Maxalto Collection Antonio Citterio Flat.C Antonio Citterio

P. 37

Pab nel 2012 amplia le proprie forme, I colori e le finlture, per proporre oggetti del desiderio contemporaneo senza rinunciare alle linee minimali e...
Text version
All MAXALTO catalogues and technical brochures