Booth

Marka Industria Mobili
Group: Corazzin
Catalogues

News

Exhibitions
MOVIDA CAMERETTE -
72 Pages
Vetri: Bianco - Blu
Scocca: Rovere chiaro - Blu notte
114
115
Dettaglio/Detail 131C
UNA IMPORTANTE ZONA DI STUDIO
REALIZZATA IMPIEGANDO LO
SPAZIO SOTTO IL LETTO.
THE SPACIOUS STUDY AREA BELOW
THE BED.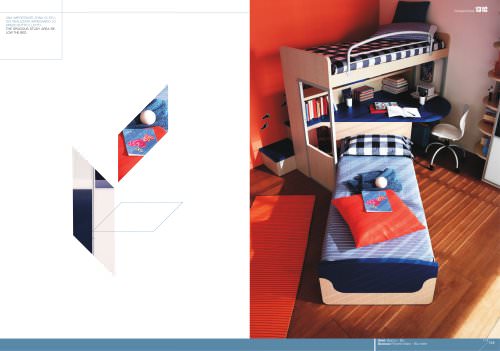 P. 54

CON IL DOPPIO LETTO GIREVOLEUNIAMO LA PRATICITA' D'USO ADUN BRILLANTE ABBINAMENTOESTETICO.THE TWO REVOLVING BEDS AREPRACTICAL AND STYLISH.Frontali:...

P. 55

Frontali: Bianco - Verde asparagoScocca: Bianco - Blu notte105107IN EVIDENZA LE ROBUSTE PROTEZIONIANTICADUTA E LA SCALETTASU RUOTE.STURDY DROP-DOWN SAFETY...

P. 56

COPPIA DI LETTI SCORREVOLI SUBINARIO AGGANCIATO ALLA BOISERIECON RUOTE DOTATE DI FRENO.TWIN BEDS ON A RUNNER FITTEDTO THE WALL PANEL, WITH CASTORSAND BRAKE.Frontali:...

P. 57

Frontali: Giallo chiaro - TortoraScocca: Bianco110111Dettaglio/Detail 130CQUANDO IL SECONDO LETTOSCOMPARE LASCIA LO SPAZIO ALLAPOSTAZIONE DI LAVORO.THE...

P. 58

IL LETTO "BICOLOR" REALIZZATOIN SPESSORI FORTI DA' GARANZIADI DESIGN E QUALITA'.A STURDY TWO-TONE BED COMBININGQUALITY WITH STYLE.Vetri:...

P. 60

IL PONTE CON ANTE SCORREVOLISFRUTTA AL MEGLIO LO SPAZIOVERTICALE.THE BRIDGING UNIT WITH SLIDINGDOORS MAKES THE MOST OFSPACE.Frontali: Azzurro - Verde CinaScocca:...

P. 61

Frontali: Azzurro - Verde CinaScocca: Acero118119SOTTO AL LETTO SUPERIORE, SAPIENTEMENTEINSERITI, SI TROVANODUE PIANI SCRITTOIO ESTRAIBILISU GUIDE METALLICHE...

P. 62

LO SCRITTOIO SCORREVOLE SULBINARIO AGGANCIATO ALLA BOISERIE.THE DESK SLIDES ON A TRACK FITTEDTO THE WALL PANEL.Frontali: Bianco - Arancio chiaroScocca:...

P. 63

Frontali: Bianco - Arancio chiaroScocca: Acero - Bianco - Arancio chiaro122123L'ARMADIO CASTELLO A RIBALTACONSENTE GRAZIE AL SUO MECCANISMODI UTILIZZARE...

P. 64

Frontali: Bianco - TeakScocca: Bianco - Teak134C124125QUESTA COMPOSIZIONE, ADATTA ASPAZI POCO PROFONDI CONSENTEDI REALIZZARE DUE POSTI LETTO.QUELLO INFERIORE,...
Text version
All Marka Industria Mobili catalogues and technical brochures
Archived catalogues