Booth

Marka Industria Mobili
Group: Corazzin
Catalogues

News

Exhibitions
MOVIDA CAMERETTE -
72 Pages
Anche se non sei l'uomo ragno
puoi comodamente salire
sul letto superiore
EASY TO USE, EVEN IF YOU'RE NOT SPIDERMAN
Frontali: Rovere chiaro - Rosso
Scocca: Rovere chiaro - Rosso
100
101
Dettaglio/Detail 127C
CAPIENTI VANI CONTENITORI SI
TROVANO SOTTO AD OGNI SCALINO
E PEDANA. IL TOP ALZABILE
CHE NE CONSENTE L'ACCESSO È
CONTROLLATO DA UN RALLENTATORE
DI SICUREZZA.
SPACIOUS STORAGE UNITS ARE
FITTED BELOW EACH STEP AND
PLATFORM. THE UNITS HAVE A
LIFT-UP TOP AND SAFETY OPENING
DEVICE.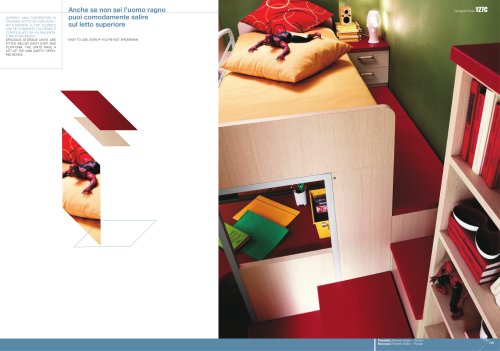 P. 47

Frontali: Verde Cina - AzzurroScocca: Bianco125C9091ECCO LA SOLUZIONE DI GRANDEUTILITA' : LETTI SOVRAPPOSTI EARMADIO IN PROFONDITA' 90 CM.AN...

P. 48

Frontali: Verde Cina - AzzurroScocca: Bianco9293IL LETTO CON MECCANISMOESTRAIBILE ED ELEVABILE OFFRELA POSSIBILITA' DI UN TERZOPOSTO.THE PULL-OUT,...

P. 49

LA CABINA ARMADIO AD AMPIAPROFONDITA' SFRUTTA LO SPAZIODELL'ANGOLO E CONSENTE L'APPOGGIODEL LETTO A CASTELLO.THE CAPACIOUS CORNER WARDROBEMAKES...

P. 50

Frontali: Bianco - Arancio chiaroScocca: Acero - Arancio chiaro9697PARTICOLARE DELL'INTERNO DELLACABINA ARMADIO SPAZIOSA EDORGANIZZATA ATTREZZABILE...

P. 51

PONTE AD ANGOLO CON LETTISOVRAPPOSTI. LA COMODA SCALAA GRADINI CONDUCE AL LETTOSUPERIORE, IL LETTO INFERIORE,SU RUOTE, OFFRE UNA PRATICASOLUZIONE PER LA...

P. 53

Frontali: Giallo girasole - AlluminioScocca: Bianco128C102103UNA PEDANA CON ANGOLO STUDIOAFFIANCA UN ARMADIO APONTE PER SFRUTTARE TUTTO LOSPAZIO DISPONIBILE...

P. 54

CON IL DOPPIO LETTO GIREVOLEUNIAMO LA PRATICITA' D'USO ADUN BRILLANTE ABBINAMENTOESTETICO.THE TWO REVOLVING BEDS AREPRACTICAL AND STYLISH.Frontali:...

P. 55

Frontali: Bianco - Verde asparagoScocca: Bianco - Blu notte105107IN EVIDENZA LE ROBUSTE PROTEZIONIANTICADUTA E LA SCALETTASU RUOTE.STURDY DROP-DOWN SAFETY...

P. 56

COPPIA DI LETTI SCORREVOLI SUBINARIO AGGANCIATO ALLA BOISERIECON RUOTE DOTATE DI FRENO.TWIN BEDS ON A RUNNER FITTEDTO THE WALL PANEL, WITH CASTORSAND BRAKE.Frontali:...

P. 57

Frontali: Giallo chiaro - TortoraScocca: Bianco110111Dettaglio/Detail 130CQUANDO IL SECONDO LETTOSCOMPARE LASCIA LO SPAZIO ALLAPOSTAZIONE DI LAVORO.THE...
Text version
All Marka Industria Mobili catalogues and technical brochures
Archived catalogues