Booth
Lzf-Lamps
AGATHA -
22 Pages
REV-04 -2012
11
Agatha
Luis Eslava Studio
Avda Reino de Valencia 14 46370 Chiva Valencia Spain Ph. +34 96 252 47 80 Fx. +34 96 252 47 95 contacts@lzf-lamps.com lzf-lamps.com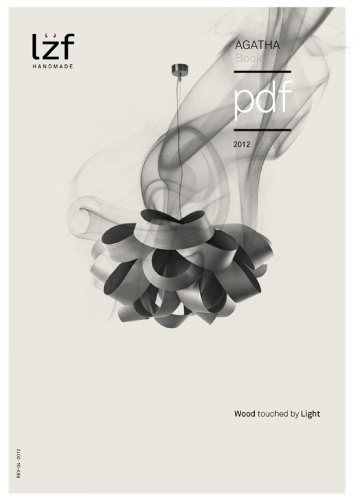 P. 3

Izf AGATHA Luis Eslava Studio Agatha, the lamp that blooms. Agatha, created by Spanish designer Luis Eslava for LZF, is a hanging lamp...

P. 4

SHADE FINISHES / ACABADOS PANTALLAS REF.CHW Natural timber veneer Madera natural CHW-20 American white wood Bolivar bianco CHW-25 Orange Naranja CHW-21 Cherry Cerezo CHW-26 Red Roja CHW-22 Beech Haya CHW-27 Green Verde CHW-24 Yellow Amarillo CHW-29 Grey Gris l...

P. 5

Izf 12 AGATHA Luis Eslava Studio PENDANT SUSPENSIÓN INFO Electrical Packaging Dimension ATASPCHW ATASBCHW Shade /Pantalla Natural...

P. 6

12AgathaLuis Eslava StudioAvda Reino de Valencia 14 46370 Chiva Valencia Spain Ph. +34 96 252 47 80 Fx. +34 96 252 47 95 contacts@lzf-lamps.com lzf-la...
Text version
All Lzf-Lamps catalogues and technical brochures
Archived catalogues