Booth
LUSOROCHAS
Temptations Panels 2011 -
20 Pages
I can resist everything except temptation.
Oscar Wilde
Temptations Panels are a new three-dimensional natural stone concept. By
combining the latest technology with the newest trends in design, they provide an
outstanding solution in order to obtain an unique and exquisite decor.
A whole new world of possibilities arises through visual and tactile effects on stone
surface providing an endless range of creative options for designers, architects and
clients. Temptations Panels can be customized to each project with different stones and
finishes. New designs can also be suggested. The panels will get its potential enhanced
by an appropriate lightning system, which will provide intriguing light and shadow
effects.
Made of natural stone - a noble, durable and healthy green material - Temptations
Panels are suitable for both interior and exterior application being a premium choice for
using in private residences, hotels, SPA's, bars, offices and restaurants, as wall panels,
reception desks, washbasins and shower areas, fireplaces and anything else you can
think of.
See our concept lines and enjoy all the potential of this new product.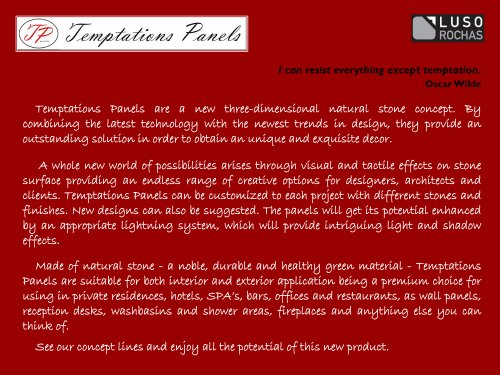 P. 1

A brflyid iA,ew natural £toyie -product flLUSO I ROCHAS IntproVi-ng stone

P. 4

SUGGESTED USES

P. 5

ARABESQUE (Floralia Series)featured in Semi-Rijo LR honed

P. 6

Arabesque (Floralia Series)

P. 7

LEAVES (Floralia Series)featured in Moleanos LR honed

P. 8

Leaves (Floralia Series)
Text version
All LUSOROCHAS catalogues and technical brochures
Archived catalogues
Technical dossier

23 Pages