AirTrek -
2 Pages
PREMIUM NONWOVEN BACKING >
The real beauty of Lees cushion modular products lies in the advanced compositestructure our patented AIRTREK Modular Systems.AIRTREK starts with Lees֒
advanced nonwoven primary foundation, then combines it with a multi-layer composite structure featuring thermoset co-polymer chemistry and an AIRTREK thermoset polyurethane cushion.The combination results in a modular system that
is ergonomically effective and environmentally friendly.Featuring the most stable
tufting platform offered, AIRTREK exhibits superior resiliency with virtually no
detectable VOCs and no 4PCH.
THERMOSET PRECOAT >
THERMOSET LAMINATE MODIFIED WOVEN FIBERGLASS STABILIZER >
(PATENT PENDING) URETHANE CUSHION REINFORCED WOVEN SYNTHETIC ҕUnsurpassed cushion underfootwhich enhances ergonomics
and reduces employee leg
fatigue by as much as 30%Unsurpassed dimensional stabilityՕ Laminated with advanced thermoset polyurethane co-polymer compound which gives long-term strength and stability Lifetime product warranties covering wear, static protection,
edge ravel, zippering,
delamination, impervious to liquids, liquid barrier,
dimensional stability, cushion
resiliency, high tuft bind, pilling and fuzzing
Օ Carpet & Rug Institute GreenLabel Plus Certified. Contains 16% post-industrial and 3% post-consumer recycled content based on total product weight (assumes 26 oz.
face weight) Superior thermal insulation benefits over conventional hard-back tiles
Օ Superior acoustical and soundabsorbing properties Meets all federal requirementsfor Americans with Disabilities ActՕ Meets or exceeds the requirements of the British Spill and the 10,000
Impact Penetration Test (not at seams) >
MODULAR CARPET TILE
AirTrek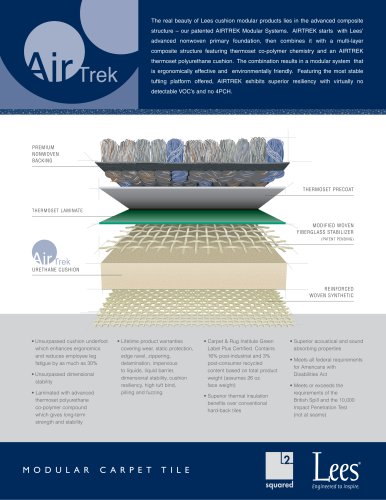 P. 2

AIRTREK WARRANTY HIGHLIGHTS Lees' AIRTREK Modular Carpet Tiles combine engineered stability with state-of-the-art thermoset multi-layer polyurethane...
Text version
All Lees catalogues and technical brochures
Archived catalogues