Torsion -
8 Pages
Forget everything you know about chairs. And, take a look at this. Torsion on the Go! By Giancarlo Piretti.
The new design isn't just there for looks. It's a new kind of functionality. The thick seat cushion and flexible back make Torsion on the Go! comfortable enough to use as a task chair. Yet, it's affordable enough to use as a side chair. That same seat flips up to enable the chair to nest for storage. So. it's there when you need it...gone when you don't.
Torsion on the Go! It's the do anything, go anywhere chair. And, that's why it's showing up everywhere. Offices. Conference rooms. Training rooms. Break rooms. Your room.
Chairs aren't supposed to be able to do all this.
Smooth and supportive back flex for outstanding comfort.
It flexes for comfort. And, follows you anywhere.
Thick seat cushion -
Oversize
Land the back moves with you for maximum comfort.
Turn to a colleague, slide over to reach a file or roll the chair to a room down the hall.
bit GOWn 3n0 relax Tor
an extended period with the soft yet firm support you need.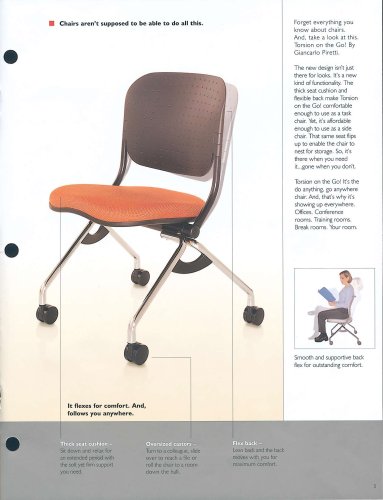 Text version
All KI catalogues and technical brochures
Archived catalogues