Booth
KEUCO

Robinets & Accessoires -
64 Pages
We assume a guarantee – according
to our manufacturer guarantee statement
– of 5 years for our products, provided
that it can be demonstrated that
the product was purchased and mounted
through a franchised specialist
craftsman. The guarantee period begins
on the date of delivery from our plant.
The statutory warranty period is contained
in the guarantee period. Electronic
components and lighting articles
are omitted from this guarantee statement.
Even the most advanced printing technologies
cannot fully reproduce the exceptional
finish and subtle colour
schemes of our products. Only original
KEUCO products can provide you with
an optimum impression. These are on
display in stores catering to the special
sanitary trade.
No part of this brochure may be reprinted
or duplicated, even in part, without
our explicit consent and without specification
of the source manufacturer.
KEUCO GmbH & Co. KG,
Postfach 1365, D-58653 Hemer
We accept no liability for changes resulting
from technical advances and
necessary modifications of design and
colour, nor from print errors.
Our products are exclusively available
through sanitary product wholesalers.
Concept, text, design,
and lithography:
Kontrast Communication
Services GmbH, Düsseldorf
Setting/product photography:
Studio CASA, Münster
Printing:
Meinders & Elstermann
GmbH & Co. KG,
Belm (Osnabrück)
Printed on GALAXI Keramik.
Supplied by the Papier Union.
Art.-Nr.: 03507/020401 Katalog Armaturen & Accessoires englisch (int. + UK), 06/10
KEUCO GmbH & Co. KG
Postfach 1365
D-58653 Hemer
Telephone +49 2372 904-0
Telefax +49 2372 904-236
info@keuco.de
www.keuco.de
FITTINGS AND ACCESSORIES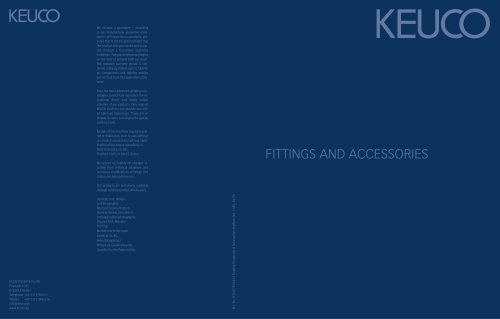 P. 2

Table of ContentsTable of ContenTs 3FO REWORD 4 – 5BA THROO M – FITTINGS & ACCESSO RIES 6 – 41PLAN 6 – 13ELEGANCE 14 –...

P. 3

"As market leader for high quality bathroom accessories,for over 50 years KEUCO has developed andproduced quality products which are known fortheir...

P. 4

6 7PLAN

P. 5

9PLANHandling the fittings is as pleasant to experienceas the forms are pure. Whether withchrome, stainless steel or aluminium finish:The excellent design...

P. 6

PLANPLAN goes along with all of your plans. After all, it is the most comprehensivebathroom furnishing concept on the market. Together with thesurface...
Text version
All KEUCO catalogues and technical brochures
PLAN BLUE NEWS 2012

2 Pages
Archived catalogues