Booth
KEUCO

Robinets & Accessoires -
64 Pages
47
AMARO is a comprehensive accessories series whose character
emanates from the playful use of round forms. On the right the lotion
dispenser in the spiral shaped holder. On this page: soap holder with
crystal glass dish, towel ring and universal shelf with rail and crystalline
glass plate.
Product overview, see pages 106 – 107
AMARO
46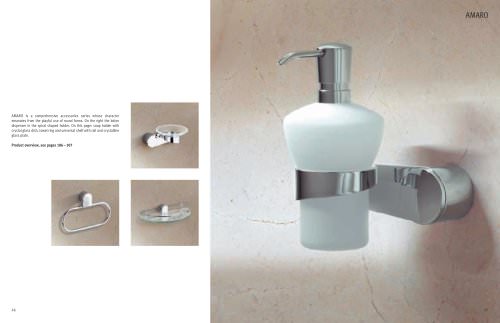 P. 19

36 37EDITION Atelier

P. 20

Straight lines, right angles and circles: Out of simple basicforms, EDITION Atelier creates its own aesthetic quality. Itsfunctional clarity characterises...

P. 21

EDITION Atelier blurs the boundaries between separateliving spaces. Even the accessories of the edition facilitatea flowing transition to the bedroom:...

P. 22

42 43Accessories

P. 23

ALEAThe striking foundation of ALEA is the metal cube of the wall mounting. Coupled with flowing formsand flat metal bands, the design generates a light,...

P. 25

48Elegance out of circular and ball forms: With its collar covers, ASTORaccessories shine in the bathroom with an aristocratic flair. Left thechrome-plated...

P. 26

Urban style with an unbeatable price-performanceratio: CITY.2 brings an objectiveelegance into the bathroom. The series satisfiesa wide range of needs,...

P. 27

The internationally renowned Italian architect and designer Matteo Thuncreated the KEUCO series CLEO. He was inspired by the movement ofwater whose vibrant...

P. 28

The perfectly crafted accessories of EDITION 200 are not only attractive to look at, theyalso satisfy the most stringent demands on ergonomics and longevity....

P. 29

Despite its name, the SOLO collection is a mature series with a widerange of products. At the most, the only feature it has where it standsalone is its...
Text version
All KEUCO catalogues and technical brochures
PLAN BLUE NEWS 2012

2 Pages
Archived catalogues