livingDesign_shower-enclosures-I_2009_2 -
84 Pages
2
DE S IGNE R SHOWE R ENC LOSUR E S
AND BATH S C R E ENS .
Boundless
showering
freedom.
The Kermi range of designer shower
enclosures and bath screens is the
ultimate in style, fashion and engineering.
Accredited to
DIN EN 9001:2008 quality
management system.
Responsible environmental
management according to
DIN EN 14001:2004.
Quality assurance certified
to DIN EN ISO 9001:2008
and DIN EN ISO 14001:2004.
All products are
manufactured to the
highest quality standards
in accordance with
EN 14428.
All products are stringently
tested by TÜV for stability,
spray-water density and
ease of cleaning.
All Kermi products are
manufactured from high
quality safety glass in
accordance with EN 12150.
Products are guaranteed
for 10 years against manufacturing
defects.
We guarantee availability
of spare parts for 10 years
following the discontinuation
of a product range.
Kermi GmbH
Pankofen-Bahnhof 1
D-94447 Plattling
09
EN 14428
Special glass treatment
prevents accumulation of
surface deposits for easy
cleaning.
Exclusively manufactured
in Germany.
Y e a r s
M A D E I N
G E RMA N Y
Years spare parts
guarantee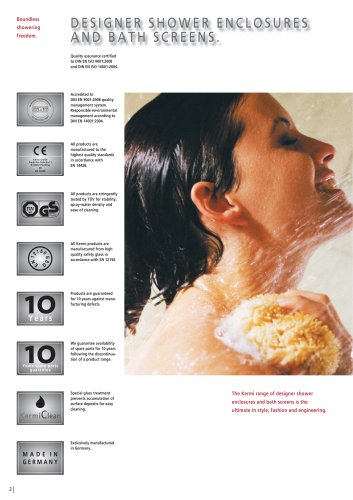 P. 1

living designShower enclosuresI/2009Retail prices including VAT

P. 2

Simply relax –with the security ofa strong brand.WHY YOU CAN EXP E C TMOR E F ROM US .As one of Germany's leading manufacturers,Kermi offers a comprehensive...

P. 3

1Section Product PageWalk-in Showers 4Gia XP 14Cuya XP 22Diga 28Siesta 36Atea 42Ibiza 50Gia XP 66Cuya XP 66Diga 66Atea 67Vario 68When visiting our websitewww.kermi.co.uk...

P. 5

3Reflecting the very latest design trendsa variety of metallic finishes and colours areavailable across a wide range of shower enclosuresat a level of...

P. 6

4WALK- IN SHOWE R Walk-in Shower

P. 7

5Unique – Individual – Minimalist.W 8 mm Safety Glass.W Standard height 2000 mm.W Made-to-MeasurePrices on application.Personalised showering...

P. 8

6WALK- IN SHOWE R Walk-in ShowerAbove:Walk-in Shower with onerear wall support profileand one wall fixing profile.Glass height 2000 mm.Overall height 2250...

P. 9

7Above: Walk-in Showerwith one wall fixing profileand one ceiling supportprofile. Glass height2000 mm. Height of ceilingsupport profile 2600 mm.
Text version
All KERMI catalogues and technical brochures
Archived catalogues