livingDesign_shower-enclosures-I_2009_2 -
84 Pages
10
WALK- IN SHOWE R Walk-in Shower
A = Glass return panel
Wall fixing model
Wall fixing model
Wall fixing model
Product description
Wall fixing model
Width
adjustment
A in mm
Height
in mm
Product code
Price Clear glass
Matt Silver High Lustre Silver
700 Walk-in Shower WALL 70
XX WIW 070
683 - 703 2000 XX WIW 07020 1AK XX WIW 07020 VAK
£578.80 £694.56
760 Walk-in Shower WALL 76
XX WIW 076
743 - 763 2000 XX WIW 07620 1AK XX WIW 07620 VAK
£636.68 £752.44
800 Walk-in Shower WALL 80
XX WIW 080
783 - 803 2000 XX WIW 08020 1AK XX WIW 08020 VAK
£671.41 £787.17
900 Walk-in Shower WALL 90
XX WIW 090
883 - 903 2000 XX WIW 09020 1AK XX WIW 09020 VAK
£694.56 £810.33
1000 Walk-in Shower WALL 100
XX WIW 100
983 - 1003 2000 XX WIW 10020 1AK XX WIW 10020 VAK
£752.44 £868.20
1100 Walk-in Shower WALL 110
XX WIW 110
1083 - 1103 2000 XX WIW 11020 1AK XX WIW 11020 VAK
£787.17 £902.94
1200 Walk-in Shower WALL 120
XX WIW 120
1183 - 1203 2000 XX WIW 12020 1AK XX WIW 12020 VAK
£810.33 £926.09
1400 Walk-in Shower WALL 140
XX WIW 140
1383 - 1403 2000 XX WIW 14020 1AK XX WIW 14020 VAK
£926.09 £1,041.85
Price includes wall profile, glass panel and ceiling support profile.
8 mm Safety Glass.
Standard height 2000 mm. Made-to-Measure - Prices on application.
Height 2.25 m with fitting.
Please note: The above price is a surcharge only, should you wish to purchase this item
individually please contact our sales office.
Product description
Rear wall support
Width
in mm
Product code
Surcharge per profile
Matt Silver High Lustre Silver
1000 Rear wall support 100
XX WS1 100
1000 XX WS1 10020 1XK XX WS1 10020 VXK
£138.90 £185.21
1400 Rear wall support 140
XX WS1 140
1400 XX WS1 14020 1XK XX WS1 14020 VXK
£138.90 £185.21
Price includes glass return panel and combination profile only.
Combination with Wall fixing model at any angle between 90° and 270° possible.
Where a glass return panel greater than 400 mm is used, we recommend the installation
of an additional ceiling support.
Glass return panel and combination profile for Wall fixing model
Product description
Glass return panel and
combination profile
Width
A in mm
Height
in mm
Product code
Price Clear glass
Matt Silver High Lustre Silver
300 Return panel ANGLE 30
XX WIA 030
300 2000 XX WIA 03020 1AK XX WIA 03020 VAK
£350.74 £397.05
350 Return panel ANGLE 35
XX WIA 035
350 2000 XX WIA 03520 1AK XX WIA 03520 VAK
£356.53 £402.83
400 Return panel ANGLE 40
XX WIA 040
400 2000 XX WIA 04020 1AK XX WIA 04020 VAK
£362.02 £408.62
450 Return panel ANGLE 45
XX WIA 045
450 2000 XX WIA 04520 1AK XX WIA 04520 VAK
£368.79 £415.10
500 Return panel ANGLE 50
XX WIA 050
500 2000 XX WIA 05020 1AK XX WIA 05020 VAK
£375.26 £421.56
Additional cost
0 - 1200 mm: £125.00
1201 mm + : £169.00
Additional cost £125.00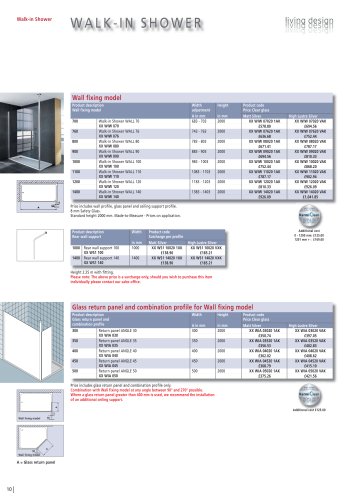 P. 7

5Unique – Individual – Minimalist.W 8 mm Safety Glass.W Standard height 2000 mm.W Made-to-MeasurePrices on application.Personalised showering...

P. 8

6WALK- IN SHOWE R Walk-in ShowerAbove:Walk-in Shower with onerear wall support profileand one wall fixing profile.Glass height 2000 mm.Overall height 2250...

P. 9

7Above: Walk-in Showerwith one wall fixing profileand one ceiling supportprofile. Glass height2000 mm. Height of ceilingsupport profile 2600 mm.

P. 10

8WALK- IN SHOWE R Walk-in ShowerAbove:Atea Walk-in with onewall fixing profile andone rear wall support.Glass height 2000 mm.

P. 11

9Above:Atea Walk-in showerconsisting of one rearwall support, one glasspanel with hinged doorand handle and one wallfixing profile.Glass height 2000 m...

P. 13

11Height 2.25 m with fitting.Please note: The above price is a surcharge only, should you wish to purchase this itemindividually please contact our sales...

P. 14

12WALK- IN SHOWE R Walk-in ShowerSide panel for combination with Free standing modelProduct descriptionSide panel for combinationwith Free standing modelWidthadjustmentA...

P. 15

13OTHE R WALK- IN MODE L S Walk-in ShowerWall fixing model Gia XPProduct descriptionWall fixing modelWidthadjustmentA in mmHeightmmProduct codePrice Clear...

P. 16

14GIA XP The Individual.Minimalism meetsDesigner Excellence.

P. 17

15Gia XP - The Individual.Minimalism meets Designer Excellence.W Unmistakeably expressive fittingsand handle designs.W Compatible with most shower trays.W...
Text version
All KERMI catalogues and technical brochures
Archived catalogues