livingDesign_shower-enclosures-I_2009_2 -
84 Pages
8
WALK- IN SHOWE R Walk-in Shower
Above:
Atea Walk-in with one
wall fixing profile and
one rear wall support.
Glass height 2000 mm.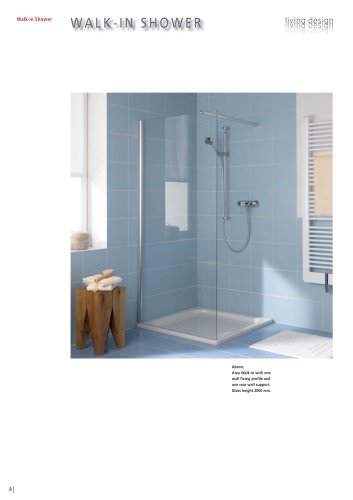 P. 5

3Reflecting the very latest design trendsa variety of metallic finishes and colours areavailable across a wide range of shower enclosuresat a level of...

P. 6

4WALK- IN SHOWE R Walk-in Shower

P. 7

5Unique – Individual – Minimalist.W 8 mm Safety Glass.W Standard height 2000 mm.W Made-to-MeasurePrices on application.Personalised showering...

P. 8

6WALK- IN SHOWE R Walk-in ShowerAbove:Walk-in Shower with onerear wall support profileand one wall fixing profile.Glass height 2000 mm.Overall height 2250...

P. 9

7Above: Walk-in Showerwith one wall fixing profileand one ceiling supportprofile. Glass height2000 mm. Height of ceilingsupport profile 2600 mm.

P. 11

9Above:Atea Walk-in showerconsisting of one rearwall support, one glasspanel with hinged doorand handle and one wallfixing profile.Glass height 2000 m...

P. 12

10WALK- IN SHOWE R Walk-in ShowerA = Glass return panelWall fixing modelWall fixing modelWall fixing modelProduct descriptionWall fixing modelWidthadjustmentA...

P. 13

11Height 2.25 m with fitting.Please note: The above price is a surcharge only, should you wish to purchase this itemindividually please contact our sales...

P. 14

12WALK- IN SHOWE R Walk-in ShowerSide panel for combination with Free standing modelProduct descriptionSide panel for combinationwith Free standing modelWidthadjustmentA...

P. 15

13OTHE R WALK- IN MODE L S Walk-in ShowerWall fixing model Gia XPProduct descriptionWall fixing modelWidthadjustmentA in mmHeightmmProduct codePrice Clear...
Text version
All KERMI catalogues and technical brochures
Archived catalogues