Living Design Radiator -
76 Pages
IVING ESIGN RADIATORS AESTHETIC HEATING FOR AN INDIVIDUAL STYLE OF LIVING PRICELIST apbania including Arbonia products Retail prices including VAT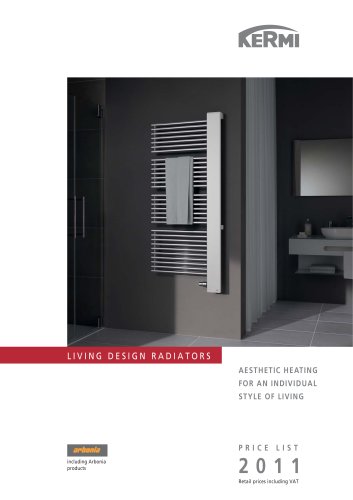 P. 2

Design radiators Page IDEOS® 8 w\ FEDON® 10 OPTOTH ERM® 12 PLANTH ERM® 14 JIVE® 16 ICARO® 18 CREDO-UNO®ll 20 Page BAGNOTHERM...

P. 3

KAROTHERM® All prices shown are retail including VAT Whilst every care has been taken to ensure that the information included in this document was...

P. 4

Simply relax -with the security of a strong brand. Water and warmth are our world. Comfort and freshness. Kermi provides both in a unique competent way....

P. 5

Kermi turns comfort into style. The requirement of high quality also manifests itself in the quality of the design. In co-operation with the creativity...

P. 6

Heating progress of outstanding quality. At Kermi highest quality has first priority. Kermi sets a high standard of quality begin-ning with product development,...
Text version
All KERMI catalogues and technical brochures
Archived catalogues