Living Design Radiator -
76 Pages
KAROTHERM® All prices shown are retail including VAT Whilst every care has been taken to ensure that the information included in this document was accurate at the time of printing, we reserve the right to change specifications and prices at any time. We will not accept liability for errors or misprints. E&OE. The photography used in this brochure is for illustration purposes only, any accessories must be purchased separately. Subject to the general terms and conditions of Kermi (U.K.) Limited. Kermi is a registered trademark. © by Kermi (U.K.) Limited. 7 Brunel Road, Earlstrees Industrial Estate, Corby, Northants NN17 4 JW. The document including all of its parts is protected by copyright. Any unauthori-sed use without the prior consent of the creator is not permitted. This includes reproductions, translations, microfilming and storage and processing in electronic systems. age 38 HEATING WALL 40 COLUMN RADIATOR Wall hung Floor mounted 42 44 CREA®THERM Single Layer Double Layer 46 48 ARBOTHERM 50 WINDOW CONVECTOR 52 Accessories 54 Electric options: All electric and multi-function 62 Summer heating kits All electric options and relevant surcharges 64 66 Arbonia colour range Kermi colour range 68 70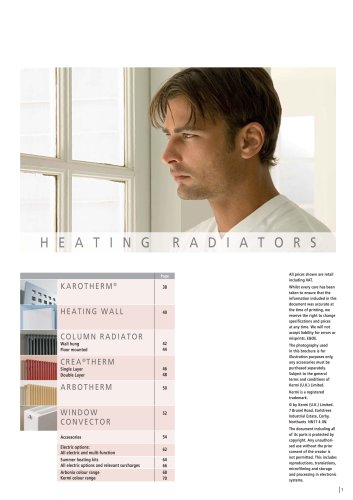 P. 1

IVING ESIGN RADIATORS AESTHETIC HEATING FOR AN INDIVIDUAL STYLE OF LIVING PRICELIST apbania including Arbonia products Retail prices including VAT

P. 2

Design radiators Page IDEOS® 8 w\ FEDON® 10 OPTOTH ERM® 12 PLANTH ERM® 14 JIVE® 16 ICARO® 18 CREDO-UNO®ll 20 Page BAGNOTHERM...

P. 4

Simply relax -with the security of a strong brand. Water and warmth are our world. Comfort and freshness. Kermi provides both in a unique competent way....

P. 5

Kermi turns comfort into style. The requirement of high quality also manifests itself in the quality of the design. In co-operation with the creativity...

P. 6

Heating progress of outstanding quality. At Kermi highest quality has first priority. Kermi sets a high standard of quality begin-ning with product development,...

P. 7

The RAL logo guarantees the highest quality. Prcise welding, pressure testing far in excess Through the RAL quality logo, Kermi radiators guarantee extensive...
Text version
All KERMI catalogues and technical brochures
Archived catalogues