| | |
| --- | --- |
| | |
Catalogues
News
Exhibitions
Splash 2009 -
24 Pages
Play With a new Kafko™ pool, you will no longer need to stretch
yourself searching for ways to keep the children entertained.
Your new pool will off er countless hours of activity
in the safety and privacy
of your own home.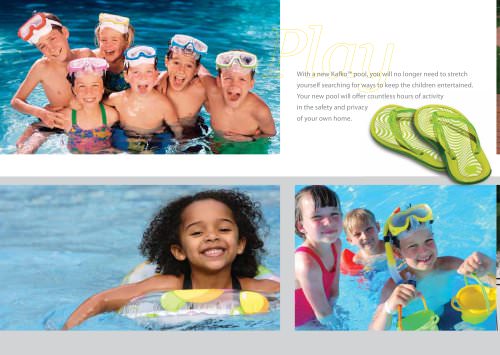 P. 3

Decide on a design with the lines and curves that willaesthetically enhance your home. Individually cut linersavailable in a wide variety of colors and...

P. 4

Image shown: Oasis

P. 5

Relax Imagine shedding off the workday with a leisurely swim tounwind. Entertaining friends and family will take on a wholenew dimension in your backyard...

P. 6

Image shown: Lagoon Image shown: MauiImage shown: Bermuda Full-L

P. 7

Image shown: TaorminaImage shown: Rectangle Image shown: Montego

P. 9

Image shown: Vermont Image shown: RomanImage shown: Tahiti Image shown: Bahama

P. 10

Image shown: Oasis Image shown: MexicoImage shown: Custom Design

P. 11

Cherish It's true. Childhood comes with an expiration date, so cherishthose precious family moments that can pass all too quickly.Whether it's...

P. 12

14'6'' x 28'6''16'6'' x 32'6''18'4'' x 36'4''20'4'' x 40'4''Grecian14' x 28'12' x 24'18' x 36'16' x 32'20' x 40'14' x 28'12' x 24'18' x 36'16' x 32'20'...

P. 13

14' x 28'16' x 32'18' x 38'20' x 42'Bermuda Full-L14' x 28'16' x 32'18' x 40'20' x 42'Arizona14' x 28'16' x 32'18' x 36'20' x 40'DominicanMexico14' x 28'12'...
Text version
All Kafko Manufacturing catalogues and technical brochures
polymer 2009

16 Pages
Archived catalogues