Booth
Kafko Manufacturing
Liners 2008 -
12 Pages
Your complete pool kit
specialist.
Pools | Ladders | Rails | Steps | Fencing | Lights | Heaters | Pumps | Filters KAFKO MANUFACTURING GROUP
U.S.A.: Atlanta, Georgia Trenton, New Jersey Օ Sacramento, California Ypsilanti, MichiganTelephone: 866-985-2356 Օ Fax: 888-331-3382 Mississauga, Ontario Montreal, QuebecTelephone: 866-995-2356 Օ Fax: 888-228-2217 WWW.KAFKO.COMCANADA: >
Notice: The manufacturer, Kafko Manufacturing, makes only those representations which are stated in its written warranty. Any other representations, statements, or contracts made by the dealer and/or the contractor to the customer regarding any materials produced by the manufacturer are attributable to the dealer and/or contractor only. The dealer or contractor who sells or installs your pool is an independent contractor and not an agent or employee of the manufacturer.The specifications and design are subject to change without notice. The manufacturer maintains a policy of continuous improvement and therefore reserves the right to change specifications without notice. Not all features shown and/or described are standard. Be sure features and equipment required are listed in the Dealers contract. ҩ Copyright 01/2008 - LK1V001-CD-E size="-2">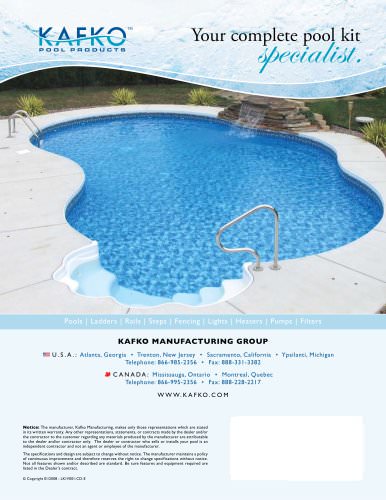 P. 7

SANTIAGO TILE / PRISM CARIBBEAN TILE / SKYBLUE ACAPULCO TILE / CREEKSTONE 30 Gauge 30 Gauge 30 Gauge TULUM TILE / BLUE GRANITE MEXICO TILE / CRYSTAL RUSTIC...

P. 8

Full Pattern Selection These liners feature a full pattern with no tile on the border. An additional up charge is applicable to these liners. TYE DYE...

P. 9

TruTile Ceramic Border >TruTile features a patented system that incorporates a vinyl liner wall and floor along with a 6"ceramic perimeter tile border....

P. 10

Wedding Cake Step Adds pizzazz to old and new poolsՕ Raised tread pattern for slip resistant finish Revolutionary clip system to secure liner...

P. 11

Superspan Dome When you demand the best pool enclosure available at the best price available, the Superspan Dome qualifies on both counts. Itْs engineered...
Text version
All Kafko Manufacturing catalogues and technical brochures
Archived catalogues