Booth
Johnson Fitness

Catalogues

News

Exhibitions
horizon -
24 Pages
COMFORT: The durable ORTHObelt offers a spacious 145 x 47 cm / 57" x 19" running area, giving users more room to run or walk. CONTROL: The ErgoWheel control is a convenient option forsetting speed and incline levels, eliminating the need for users to press buttons while running. CONVENIENCE: 10 programs with two custom options keep you motivated while the vortex fan keeps you cool as you walk, jog or run. The Horizon Ti 52 treadmill is the perfect at-home treadmill, featuring 10 motivating multi-level workout programs, including 2 heart rate control and 2 user custom programs. COMFORT: COMFORT: belt with AirCell cushioning system. Fan (Ti 52 / Ti 32 / Ti 22) me is stable during the most intense exercise sessions. 2.0 CHP motor is powerful and quiet. 0.8 to 20 kph / 0.5 to 12 mph and 0 to 12% incline ranges allow you to take your workout to a more challenging level. The FeatherLIGHT folding feature uses a hydraulic system that allows any user to easily store the treadmill. cool wnne exercising The BlueBacklit LCD screen lets you see more key feedback at once. Page 9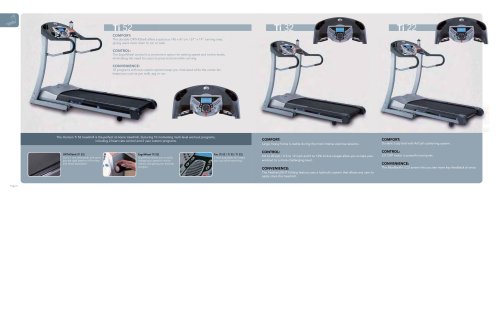 P. 1

ESIGNED FOR LIF ©2011 Johnson Health Tech. All rights reserved. Product spcifications subject to change without notice. Part # YHZSLB001

P. 2

ojuK HeKI.AGe s equipment that can help you reach your fitness goals. Horizon Fitness is part of Johnson Health Tech - a name synonymous with quality fitness...

P. 3

ALL HORIZON TREADMILLS ARE DESIGNED WITH THESE THREE FEATURES IN MIND CONTROL CONTINUOUS-DUTY (CHP) RATED MOTOR Our motors produce smooth, consistent power,...

P. 4

COMFORT: The durable, mulit-ply belt with Adjustable Cushioning System on our longer 1 52 cm / 60" deck gives users plenty of room to run. CONTROL: 2.75...

P. 5

COMFORT: Durable, 2-ply belt with VCS and PerfectFLEX Plus cushioning Systems. CONTROL: 2.25 CHP digital drive motor, 0.8 to 18 kph / 0.5 to 11 mph, 0...

P. 7

COMFORT: The revolutionary ORTHObelt cushioning provides the best shock absorption and support possible. CONTROL: 2.5 CHP digital drive motor, 0.8 to 20...

P. 8

COMFORT: Folding mechanism with durable frame provides comfort during intense workouts. CONTROL: 1.75 CHP motor is powerful and quiet. CONVENIENCE: eTRAK...

P. 9

COMFORT: 120 x 43 cm / 47" x 17" workout space easily accommodtes most walking or jogging strides. CONTROL: 1.0 to 1 3 kph / 0.6 to 8 mph speed range and...

P. 10

ALL HORIZON ELLIPTICALS ARE DESIGNED WITH THESE THREE FEATURES IN MIND CONTROL f A COMFORT («f»V CONTROL 7 CONVENIENCE QuickCon - EASY ADJUSTMENT...

P. 11

COMFORT: The extra-long 50.8 cm / 20" stride length and rubberized footpads allow natural, confident movement. CONTROL: 20 motorized resistance levels...
Text version
All Johnson Fitness catalogues and technical brochures
Matrix

6 Pages
Archived catalogues
treo fitness

13 Pages

johnson

2 Pages

cardio

44 Pages