Booth
Johnson Fitness

Catalogues

News

Exhibitions
horizon -
24 Pages
COMFORT: The durable, mulit-ply belt with Adjustable Cushioning System on our longer 1 52 cm / 60" deck gives users plenty of room to run. CONTROL: 2.75 CHP digital drive motor System, 0.8 to 20 kph / 0.5 to 1 2 mph, 0 to 1 2% incline. CONVENIENCE: 1 large and 2 small BlueBacklit LCD Windows for instant workout feedback. Full HRC monitoring with up to 30 days of goal tracking, 17 programs and Made for iPod speakers with MP3 compatibility. COMFORT: VCS (Variable Cushioning System) and PerfectFLEX Plus provide the right mix of shock absorption and support. CONTROL: 2.5 CHP motor is powerful, quiet and smooth, 0.8 to 20 kph / 0.5 to 1 2 mph, 0 to 1 2% incline. CONVENIENCE: 1 5 programming options, with the exclusive GoalCenter Performance Tracker, help users achieve their fitness goals by allowing them you to track their fitness goals over time. EnergySaver Puts the product in "sleep mode" when not in use to minimize energy consumption. The Horizon Adventure 5 Plus treadmill combines a powerful, quiet motor; stable, comfortable platform; and an iPod holder with in/out jacks and console controls for the most enjoyable workout experience possible. The Horizon Adventure 4 Plus treadmill is a great choice for seasoned treadmill users with its powerful drive system and motivating programs. GoalCenter (Adventure 5 / 4 I MP3 Ready (Adventure 5 / 4 / 3 Plus) equipped orizon s exclusive GoalCenter performance Tracker software. By simply pressing the GoalCenter key, you can track your fitness goals over time. enjoy their workout playlist with jvv stereo speakers. Page 5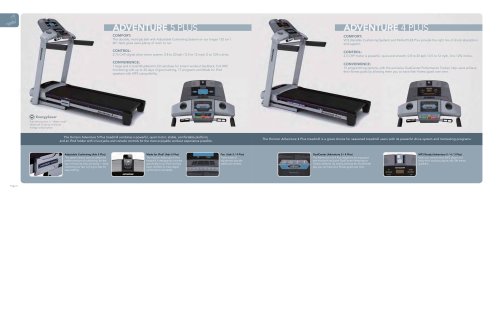 P. 1

ESIGNED FOR LIF ©2011 Johnson Health Tech. All rights reserved. Product spcifications subject to change without notice. Part # YHZSLB001

P. 2

ojuK HeKI.AGe s equipment that can help you reach your fitness goals. Horizon Fitness is part of Johnson Health Tech - a name synonymous with quality fitness...

P. 3

ALL HORIZON TREADMILLS ARE DESIGNED WITH THESE THREE FEATURES IN MIND CONTROL CONTINUOUS-DUTY (CHP) RATED MOTOR Our motors produce smooth, consistent power,...

P. 5

COMFORT: Durable, 2-ply belt with VCS and PerfectFLEX Plus cushioning Systems. CONTROL: 2.25 CHP digital drive motor, 0.8 to 18 kph / 0.5 to 11 mph, 0...

P. 6

COMFORT: The durable ORTHObelt offers a spacious 145 x 47 cm / 57" x 19" running area, giving users more room to run or walk. CONTROL: The ErgoWheel control...

P. 7

COMFORT: The revolutionary ORTHObelt cushioning provides the best shock absorption and support possible. CONTROL: 2.5 CHP digital drive motor, 0.8 to 20...

P. 8

COMFORT: Folding mechanism with durable frame provides comfort during intense workouts. CONTROL: 1.75 CHP motor is powerful and quiet. CONVENIENCE: eTRAK...

P. 9

COMFORT: 120 x 43 cm / 47" x 17" workout space easily accommodtes most walking or jogging strides. CONTROL: 1.0 to 1 3 kph / 0.6 to 8 mph speed range and...
Text version
All Johnson Fitness catalogues and technical brochures
Matrix

6 Pages
Archived catalogues
treo fitness

13 Pages

johnson

2 Pages

cardio

44 Pages