| | |
| --- | --- |
| | |
Catalogues
News
Exhibitions
horizon -
24 Pages
TREADMILLSPECIFICATIONS Belt Type 1.6 mm 1.6 mm 1.6 mm 1.4 mm 1.4mm Running Area 51 x 152 cm / 20" x 60" 51 x 140 cm / 20" x 55" 51 x 140 cm / 20" x 55" 51 x 140 cm / 20" x 55" 46 x 135 cm / 18"x 53" Cushioning System VCS + Adjustable Cushioning VCS + PerfectFLEX Plus VCS + PerfectFLEX Plus VCS + PerfectFLEX VCS + FLEXtech Incline Range 0 - 12% 0 - 12% 0 - 10% 0 - 10% 0 - 10% Speed Range 0.8 - 20 kph / 0.5 - 12 mph 0.8 - 20 kph / 0.5 - 12 mph 0.8 - 18 kph / 0.5 - 11 mph 0.8 - 18 kph / 0.5 - 11 mph 0.8 - 16 kph / 0.5 - 10 mph Added Functions EnergySaver Mode EnergySaver Mode EnergySaver Mode EnergySaver Mode EnergySaver Mode Belt Type 3.1 mm Orthopedic Belt 1.6 mm Belt 1.6 mm Belt 1.4 mm Belt 1.4 mm Belt 1.4 mm Belt Running Area 150 x 50 cm / 59" x 20" 138 x 50 cm / 54" x 20" 130 x 50 cm / 51" x 20" 139 x 46 cm / 55" x 18" 139 x 46 cm / 55" x 18" 132 x 46 cm / 52" x 18" Cushioning System VCS Cushioning VCS Cushioning VCS Cushioning VCS Cushioning VCS Cushioning VCS Cushioning Incline Range 0 - 12 % (0.5% Increments) 0 - 12 % (0.5% Increments) 0 - 10 % (0.5% Increments) 0 - 12 % (0.5% Increments) 0 - 12 % (0.5% Increments) 0 - 10 % (0.5% Increments) Speed Range 0.8 - 20 kph / 0.5 - 12 mph 0.8 - 20 kph / 0.5 - 12 mph 0.8 - 16 kph / 0.5 - 10 mph 0.8 - 16 kph / 0.5 - 10 mph 0.8 - 16 kph / 0.5 - 10 mph 0.8 - 16 kph / 0.5 - 10 mph 2.5 CHP DRIVE SYSTEM Motor Motor 2.75 CHP 2.5 CHP 2.25 CHP 2.0 CHP 1.75 CHP CONSOLE Display Type 2 BlueBacklit LCD with 1 Bluebacklit LCD Profile Display 2 Orange LED Windows with 1 Dot-Matrix Profile Display, 10 Digit Alphanumeric Display 3 Orange LED Windows with 1 Dot-Matrix Profile Display 3 Orange LED Windows with 1 Dot-Matrix Profile Display Orange LED Windows, 1 Additional Communication Windows Display Feedback Time, Distance, Calories, Speed, Incline and Heart Rate Time, Distance, Calories, Speed, Incline and Heart Rate Time, Distance, Calories, Speed, Incline, Heart Rate, Program Profile, Targets and Workouts Time, Distance, Calories, Speed, Incline, Heart Rate, Program Profile, Targets and Workouts Time, Distance, Calories, Speed, Incline, Heart Rate, % Complete and Scan Programs 17 Program Options plus Advanced GoalCenter, including 3 Targets (Time, Distance, Calories), 5 Basic (Manual, Intervals, Hills, Weight Loss, HRC), 2 Custom and 1-30 Day Goal Tracking 15 Program Options plus Advanced GoalCenter, including 3 Targets (Time, Distance, Calories), 5 Basic (Manual, Intervals, Hills, Weight Loss, HRC) and 1-30 Day Goal Tracking 10 Program Options, including 3 Targets (Time, Distance, Calories), 3 Basic (Manual, Intervals, Weight loss) and HRC 10 Program Options, including 3 Targets (Time, Distance, Calories), 3 Basic (Manual, Intervals, Weight loss) and HRC 6 Program Options: Manual, Interval, Rolling, Weight Loss, Hill and HRC Entertainment Made for iPod Speakers with MP3 Compatibility Audio in/out and MP3 Compatible Speakers 3W Speakers with in/out Jacks and MP3 Pocket N/A N/A Contact / Telemetric HR Sensors Yes Yes Yes Yes Yes Display Type 4 BlueBacklit LCD Screens with Dot-Matrix 4 BlueBacklit LCD Screens with Dot-Matrix 2 BlueBacklit LCD Screens with Training Lap 7 LED Windows with 6 eTRAK Feedback Options 5 LED Windows with 4 eTRAK Feedback Options 5 LED Windows with 4 eTRAK Feedback Options Display Feedback Time, Distance, Calories, Speed, Incline and Heart Rate Time, Distance, Calories, Speed, Incline and Heart Rate Time, Distance, Calories, Speed, Incline and Heart Rate Time, Distance, Calories, Speed, Incline, Heart Rate, Fat and Carbohydrate Time, Distance, Calories, Speed, Incline and Heart Rate Time, Distance, Calories, Speed, Incline and Heart Rate Programs Manual, Intervals, Rolling, Weight Loss, Hill Run, Hill Climb, After Burner, Race, HRC1, HRC2, Custom1, Custom2, Custom3, Custom4 and Custom5 Manual, Intervals, Rolling, Weight Loss, Hill Run, HRC1, Custom1 and Custom2 Manual, Intervals, Rolling, Weight Loss, Hill Run and HRC1 Manual, Fat Burn, Weight Loss, Hill Run, Hill Climb, Cross Country, Rock Climb, HRC1, HRC2, 5K Run and 10K Run Manual, Fat Burn, Weight Loss, Hill Run, Hill Climb, Cross Country, Rock Climb, 5K Run and 10K Run Manual, Fat Burn, Weight Loss, Hill Run, Hill Climb, Cross Country, Rock Climb, 5K Run and 10K Run Contact / Telemetric HR Sensors Yes Yes Yes Yes Contact HR Sensors Only Contact HR Sensors Only TECH SPECS In-Use Dimensions (L x W x H) 200 x 88 x 138 cm / 79" x 35" x 54" 189 x 88 x 138 cm / 74.5" x 35" x 54" 181 x 88 x 138 cm / 71" x 35" x 54" 199 x 79 x 126 cm / 78" x 31" x 50" 199 x 79 x 126 cm / 78" x 31" x 50" 191 x 79 x 126 cm / 75" x 31" x 50" Folded Dimensions (L x W x H) 89 x 88 x 185 cm / 35" x 35" x 73" 89 x 88 x 173 cm / 35" x 35" x 68" 89 x 88 x 167 cm / 35" x 35" x 66" 109 x 79 x 169 cm / 43" x 31" x 66.5" 109 x 79 x 169 cm / 43" x 31" x 66.5" 109 x 79 x 160 cm / 43" x 31" x 63" Product Weight 104 kg / 229 lbs. 97 kg / 214 lbs. 95 kg / 209 lbs. 86 kg / 189.5 lbs. 86 kg / 189.5 lbs. 83 kg / 183 lbs. Maximum User Weight 170 kg / 374.5 lbs. 160 kg / 352.5 lbs. 135 kg / 297 lbs. 130 kg / 286 lbs. 130 kg / 286 lbs. 120 kg / 264 lbs. Selling Features S®®®® @®®©© ®®®© @®®© ©®®Q @©®®® (D®®@© ®®@ ®®@ TECH SPECS In-Use Dimensions (L x W x H) 192 x 86 x 147 cm / 75.5" x 34" x 58" 178 x 86 x 147 cm / 70" x 34" x 58" 180 x 86 x 136 cm / 71" x 34" x 53.5" 180 x 86 x 136 cm / 71" x 34" x 53.5" 177 x 85 x 134 cm / 70" x 33" x 53" Folded Dimensions (L x W x H) 120 x 86 x 168 cm / 47" x 34" x 66" 115 x 86 x 156 cm / 45" x 34" x 61.5" 121 x 86 x 151 cm / 48" x 34" x 59.5" 121 x 86 x 151 cm / 48" x 34" x 59.5" 107 x 85 x 155 cm / 42" x 33" x 61" Product Weight 90 kg / 198 lbs. 85 kg / 187 lbs. 88 kg / 194 lbs. 86 kg / 189.5 lbs. 79 kg / 174 lbs. Maximum User Weight 160 kg / 350 lbs. 147 kg / 325 lbs. 135 kg / 300 lbs. 125 kg / 275 lbs. 125 kg / 275 lbs. Selling Features ®®®®(D® ®®0©©@ ©®®(§)® ®©®® <8>(D(§) ©© ®#(§®® (Q)(§) Page 39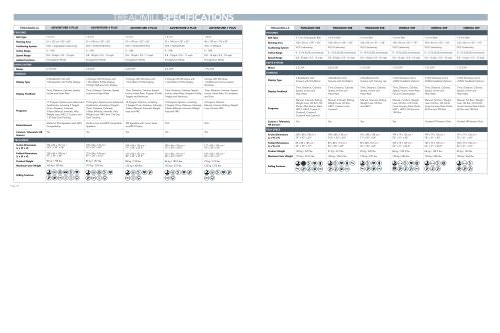 P. 16

FOCUS 308 COMFORT 408 ured seating is fully adjustable with lumbar support. The step-through rame design allows easy access. Horizontal and vertical seat...

P. 17

roRus 408 COMFORT: The stability of a home gym will impact your customers' comfort level. The Torus 408 uses heavy gauge steel tubing in a sturdy frame...

P. 18

dYNAMIC 208 OXFORD TT rREADMILL_&_ELLIPTICAL_FEATURES NEW!! EnergySaver: We make our products energy efficient without sacrificing features and performance....

P. 19

F I TN E S S Vibration training offers many benefits, especially when used to complment your existing fitness routin Here are just a few examples: PROVIDES...

P. 20

53000 COMFORT: The extra large platform and strong power output providen an effective and comfortable workout. CONTROL: You can control the frequency and...

P. 22

READMILLSPECIFICATIONS TREADMILLS Ti 52 Ti 32 Ti 22 TREADMILLS EVOLVE PLUS EVOLVE FEATURES Belt Type 1.6 mm Belt 1.6 mm Belt Running Area 120 x 43 cm /...

P. 23

ELLIPTICALSPECIFICATIONS ELLIPTICALS ENDURANCE 5i ENDURANCE 4 ENDURANCE 3 FEATURES Stride Length 50.8 cm / 20" 50.8 cm / 20" 45.7 cm / 18" Flywheel 8 kg...

P. 24

FITNESS BIKE SPECIFICATIONS FITNESS BIKES FOCUS 308 COMFORT 408 FEATURES Flywheel 8.5 kg / 18.7 Ibs. 4.5 kg / 9.9 Ibs. Handlebars Design Adjustable Handlebar...
Text version
All Johnson Fitness catalogues and technical brochures
treo fitness

13 Pages

johnson

2 Pages

cardio

44 Pages