Booth
Johnson Fitness

Catalogues

News

Exhibitions
horizon -
24 Pages
roRus 408 COMFORT: The stability of a home gym will impact your customers' comfort level. The Torus 408 uses heavy gauge steel tubing in a sturdy frame design to keep the home gym from shifting or rocking during the most intense workouts. CONTROL: The Torus 408's use of independent cables offers each user the freedom to move naturally, throughout their specific range of motion for each exercise, to train strength, coordination, and balance. CONVENIENCE: Workouts on the Torus 408 are more efficient; it doesn't require cable rerouting during a workout. In fact, once a cable is routed during assembly, a user never needs to touch the cable again. The Horizon Fitness Torus 408 functional trainer is designed to meet the basic needs of beginners and the rigorous demands of experienced users.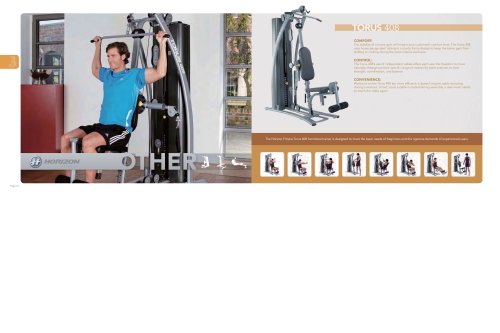 P. 12

AND COMFORT: 41 cm / 16" stride length, extra-small spacing between the feet (E.S.Q.F.), smooth ErgoFlow motion and non-slip footpads provide a safe and...

P. 13

ANDES309 COMFORT: Full 41 cm / 16" stride length, E.S.Q.F. pedal spacing and oversized footpads give you a natural, comfortable workout experience. CONTROL:...

P. 16

FOCUS 308 COMFORT 408 ured seating is fully adjustable with lumbar support. The step-through rame design allows easy access. Horizontal and vertical seat...

P. 18

dYNAMIC 208 OXFORD TT rREADMILL_&_ELLIPTICAL_FEATURES NEW!! EnergySaver: We make our products energy efficient without sacrificing features and performance....

P. 19

F I TN E S S Vibration training offers many benefits, especially when used to complment your existing fitness routin Here are just a few examples: PROVIDES...

P. 20

53000 COMFORT: The extra large platform and strong power output providen an effective and comfortable workout. CONTROL: You can control the frequency and...

P. 21

TREADMILLSPECIFICATIONS Belt Type 1.6 mm 1.6 mm 1.6 mm 1.4 mm 1.4mm Running Area 51 x 152 cm / 20" x 60" 51 x 140 cm / 20" x 55" 51 x 140 cm / 20" x 55"...

P. 22

READMILLSPECIFICATIONS TREADMILLS Ti 52 Ti 32 Ti 22 TREADMILLS EVOLVE PLUS EVOLVE FEATURES Belt Type 1.6 mm Belt 1.6 mm Belt Running Area 120 x 43 cm /...
Text version
All Johnson Fitness catalogues and technical brochures
Matrix

6 Pages
Archived catalogues
treo fitness

13 Pages

johnson

2 Pages

cardio

44 Pages