Booth
Jhons Manville
Catalogues

News

Exhibitions
Specialty Insulation Products -
2 Pages
I/Zi
Johns ManviIle
FORMALDEHYDE-FREE
Johns Manville has revolutionized the building insulation industry by introducing an entire line of
formaldehyde-free fiber glass building insulation. JM Formaldehyde-free insulation provides the same
high-quality thermal and acoustical properties as conventional JM fiber glass - just without the
formaldehyde-based binder. Why? Because it's a smart thing to do for our customers and the environment.
Formaldehyde has traditionally been used as part of the binder in fiber glass insulation. Although there
is no health risk with the traditional product, formaldehyde at higher levels may cause irritation and
sensitivity. JM Formaldehyde-free building insulation utilizes an innovative new acrylic binder that
eliminates binder-related formaldehyde emissions during manufacturing and, once installed, will not
off-gas formaldehyde in the indoor environment. No formaldehyde means fewer things to worry about.
Visit us at www.jm.com for more information.
DUCT WRAP FIBER GLASS INSULATION
Product Applications
Duct Wrap is sized for use around duct work and other related
applications. Tough, flame-resistant Foil-Scrim-Kraft (FSK) facing makes
it ideal for use around air conditioners, in crawl spaces and behind
stoves and radiators.
Installation
Duct Wrap is packaged in 2" thick x 24" wide x 15' long rolls with a 2" tab for
a tight, overlapping seal. Each package covers 30 square feet.
MULTI-PURPOSE FIBER GLASS INSULATION
Product Applications
Ideal for small insulation applications throughout the home, including
around windows, doors, and gaps around air conditioners, outlet boxes
and pipes.
Installation
Each 2" thick x 16" wide x 48" long sheet fits a variety of smaller
insulation applications. It is unfaced and cuts easily with a pair of
scissors or knife.
PACKAGING
Specialty insulation products are packaged in plastic-wrapped units.
SPECIFICATION COMPLIANCE
ASTM E 84 Flame Spread 25 or less, Smoke Developed 50 or less
ASTM E 136 Noncombustible (Fiber Glass Only)
SHORT FORM SPECIFICATION
All insulation shown on drawings or specified herein shall be "Johns Manville Duct Wrap Formaldehyde-free
Fiber Glass Insulation" or "Johns Manville Multi-Purpose Formaldehyde-free Fiber Glass Insulation."
Specialty
Insulation
Products
Formaldehyde-free Duct Wrap Fiber Glass
and Multi-Purpose Fiber Glass
PERFORMANCE ADVANTAGES
• Formaldehyde-free-will not off-gas
formaldehyde in the indoor environment.
• Fire-resistant and Noncombustible -
(see Specification Compliance).
• Noncorrosive - does not accelerate
corrosion of pipes, wiring or metal studs.
• Durable - unaffected by moisture, oil,
grease and most acids. It will not rot,
mildew or otherwise deteriorate.
• Resilient - bonded glass fibers will not
pull apart during normal applications
and will resist settling, breakdown and
sagging from vibration.
• Flexible - forms readily around corners
and curved surfaces.
LIMITATIONS OF USE
Check applicable building codes.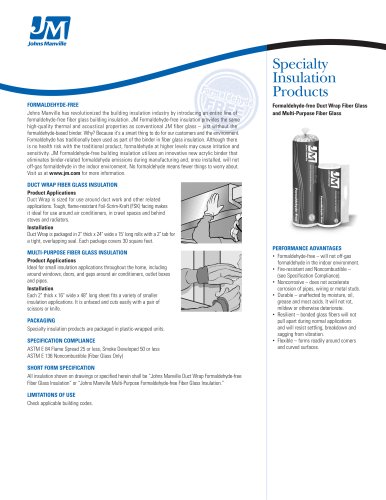 P. 2

Specialty Insulation Products Formaldehyde-free Duct Wrap Fiber Glass and Multi-Purpose Fiber Glass Visit our website at www.jm.com Or call:...
Text version
All Jhons Manville catalogues and technical brochures