Stand

Group: SAINT-GOBAIN
Catalogues
News
Exhibitions
Renovation -
59 Pages
A Technical Guide to the
Thermal Renovation of old buildings.
Higher quality of life –
lower heating costs
Up to 90% energy savings by renovation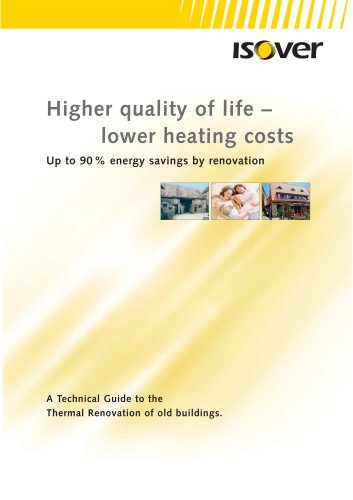 P. 2

2 ISOVER ISOVER 3Comfort comes first!Renovation with the ISOVER Multi-Comfort House Concept - this stands for environmental protection, energy savingsand...

P. 3

4 ISOVER ISOVER 5I. IntroductionI.1. High energy costs but a low comfort level –a growing problemI.2. Thermal comfort at lower heating costs: achievedby...

P. 4

6 ISOVER ISOVER 7If best practice is used to construct and insulate a building, its heating and cooling demand can be reduced to less than15 kWh/m2a. For...

P. 5

8 ISOVER ISOVER 9The U-values of building elements exposed to the outside air should be about 50% lower than those of building elementsin contact with...

P. 6

10 ISOVER ISOVER 11at the bottom of the house. This pressure difference causes warm air to flow outand cold air to flow into a heated house through gaps...
Text version
Archived catalogues