sanispray -
16 Pages
Passive detection technology - passives Detektionssystem
Hands-off water and soap
operation
Through the hands-free operation of water and
soap, users no longer have to worry about the risk
of infections and/or the spread of germs that may
arise from contact with the fixtures.
Maximum water-savings
Electronic hands-free water supply systems are
water-conserving in design and function.
Through precise micro-processor control, and
through the use of accurate flow regulators, both
the duration and the volume of water spent are
controlled, thus offering maximum water-savings
without sacrificing user convenience.
To offer a consistent system for the widely diverging
applications, the Sanispray® electronic
washfountains come in three versions : MAXISPRAY,
MINI-SPRAY and HI-TRAFFIC.
One trade installation : easy
and economical
For rapid and flexible installation of supplies
and drains, all Sanispray® washfountains can be
equipped with stainless steel flexible supply lines,
stop ball valves with integral strainers and with a
flexible drain. All electronic components are preassembled.
In the standard model, the lithium batteries serve
as the only power source thus limiting installation
to the plumber.
Berührungslose Wasser- und
Seifenbedienung
Dank der berührungslosen Wasser- und Seifenbedienung
kommt der Benutzer nicht mehr mit
dem sanitären System und dessen Umgebung in
Berührung, wodurch die Gefahr einer Infizierung
oder der Keimverbreitung vermieden wird. Auf
diese Weise werden hygienische Sanitäranlagen
gewährleistet.
Maximale Wassereinsparung
Elektronische berührungslose sanitäre Systeme
sind an sich schon wassersparend. Dank der genauen
Überwachung des Mikroprozessors und
dem Einsatz präziser Stromregler, können sowohl
die Dauer als das Volumen des Wasserstroms
überwacht werden. So wird bei Erhaltung des optimalen
Benutzerkomforts eine maximale Wassereinsparung
erzielt.
Um den unterschiedlichen Anforderungen gerecht
zu werden, sind die elektronischen Sanispray
® Waschbrunnen in 3 verschiedenen
Grundausführungen lieferbar : MAXI-SPRAY,
MINI-SPRAY und HI-TRAFFIC.
Montage : einfach und preiswert
Für eine schnelle und flexible Montage sind alle
Sanispray® Waschbrunnen regulär mit rostfreien
Zufuhrschläuchen und Absperrhähnen mit Filtern
ausgestattet. Die Vormontage aller elektronischen
Komponenten garantiert eine leichte und schnelle
Montage. Da die Verwendung von Batterien einen
autonomen Betrieb gewährleistet, beschränkt sich
die Montage also auf die Installationsarbeit. Elektriker
werden nicht gebraucht.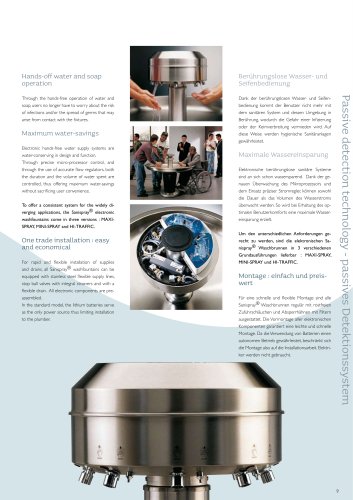 P. 4

CNF ModelCollective foot control withspray nozzlesWater distribution head made of stainless steelAISI 304, equipped with 8, 6, 5, 4 or 3 vandalproofspray...

P. 5

INH ModelIndividual control with handpush buttonsWater distribution head made of stainless steeltype AISI 304 with individual hand control through8, 6,...

P. 6

Individual ControlsIMH ModelDistribution ring with mixersThe column is made of stainless steel AISI 304with chromed distribution head composed of 2separate...

P. 7

Water-conserving nozzles with automatic flowcontrols 1,9 l/minWassersparende Sprühdüsen mitautomatischen Durchflußbegrenzern 1,9 l/minPassive...

P. 8

FoodindustryNahrungsmittelindustrieA unique patented systemThe no-touch operation of Sanispray® Electronicsis based on passive detection technology,...

P. 10

10maxiISX Model - Individual - Maxi-sprayOperationWhen a user places his or her hands underneath one of the individual nozzles,the water flows for at least...

P. 11

11ISN Model - Individual - Mini-sprayOperationAs soon as a user presents his or her hands underneath one of the individualnozzles, the water starts flowing...

P. 12

12CST Model - Collective - Hi-TrafficOperationAs soon as a user places his or her hands in the detection area of one of theindividual sensors, the collective...

P. 13

13886543886543443322443322MAXI-SPRAY - ISX MINI-SPRAY - ISN8865438865438865431086543555332HI-TRAFFIC - CSTINDIVIDUAL - INDIVIDUELL COLLECTIVE - KOLLEKTIVOption:...

P. 14

14flexible Installation flexibilityFlexibele AnschlußmöglichkeitenWater Supply:Flexible braided stainless steel supply lines are included and...
Text version
All Intersan catalogues and technical brochures