| | |
| --- | --- |
| | |
Catalogues
News
Exhibitions
INNOVATION - REPOSE -
48 Pages
038 / Toolbox
GB_A good nights sleep is essential
for our well-being. On average we
sleep six to eight hours every night
and therefore the choice of mattress
is very important.
Comfort means different things to
different people. Natural comfort
mattresses are based on traditional
Japanese principles, where carted
cotton is the basic element. The
classic cotton mattress is quite firm
and comfortable and combined with
aslat frame, it offers effective back
support.
The supreme quality of the cotton
layers lies in their ability to lead
moisture away from the body, which
allows your body to breathe and
maintain a comfortable body
temperature, whether it is cold or
warm. The fusion mattress is a
maintenance-free luxury mattress
with a core of pocket springs
surrounded by freon-free polyether
foam and layers of cotton.
Natural Comfort mattresses are
flexible and especially developed for
sofa beds. The mattresses have no
partitions, which ensures an even
surface to lie on.
Repose Mattress
GB_The Repose mattress is a fusion
mattress with 9 cm pocket spring,
surrounded by 1 cm freon-free
polyether foam and two layers of
carted cotton. A high-resilient luxury
mattress of high quality and longevity.
D_Die Repose-Matratze ist eine
Fusions-Matratze, deren Kern aus
9 cm Taschenfedern besteht.
Dieser Kern ist beidseitig von 1 cm
FCKW-freiem Polyether Schaum und
2 Schicht gekämmter Baumwolle
umgeben. Eine druckausgleichende
Luxus-Matratze höchster Qualität
und Lebensdauer.
Natural comfort
D_Gut zu schlafen bedeutet sich wohl
fühlen. Und da wir durchschnittlich
6-8 Stunden pro Nacht schlafen, ist
die Wahl der Matratze sehr wichtig.
Die Auffassungen und Meinungen
darüber, welche Matratze die
komfortabelste sein mag, sind ganz
individuell. Natural Comfort Matratzen
sind nach traditionellen, japanischen
Prinzipien hergestellt, wobei gekämmte
Baumwolle der Hauptbestandteil ist.
Die klassische Baumwollmatratze ist
relativ fest, komfortabel und zusammen
mit einem Lattenrost stützt sie den
Rücken hervorragend.
Baumwolle hat die besondere
Eigenschaft, dass sie Feuchtigkeit
vom Körper ableitet, dem Körper
zu atmen erlaubt und für eine
angenehme Körpertemperatur sorgt,
egal ob es kalt oder warm ist. Die
Fusions-Matratzen sind pflegeleichte
Luxusmatratzen, mit Taschenfederkern.
Dieser Kern ist beidseitig von
1cm FCKW-freiem Polyether Schaum
und mit Schichten aus gekämmter
Baumwolle umgeben.
F_Bien dormir est essentiel à notre
bien-être. Et comme nous dormons
en moyenne six à huit heures par
nuit, le choix du matelas est
particulièrement important.
Les perceptions et opinions sont
nombreuses pour définir ce qu'est un
matelas confortable. Les différences
sont individuelles et varient selon les
personnes. Les matelas Natural
Comfort sont basés sur un principe
traditionnel japonais. Le coton cardé
en est l'élément essentiel. Le matelas
classique en coton est relativement
ferme et confortable. Combiné à un
sommier à lattes, il offre un bon
support pour le dos.
Les couches de coton ont la
particularité de permettre au corps de
respirer, d'éliminer la moiteur et
d'assurer une température corporelle
agréable, qu'il fasse chaud ou froid.
Les matelas «fusion» sont des
matelas de luxe ne nécessitant aucun
entretien, à ressorts en poches de
6 cm enveloppées de mousse
polyéther sans fréon ainsi que deux
couches de coton cardé.
Les matelas Natural Comfort sont
souples et spécialement conçus pour
les canapéslits. Les matelas n'ont
aucune séparation et offrent une
surface uniforme.
F_Repose est un matelas « fusion »
à ressorts en poches de 9 cm,
enveloppées de 1 cm de mousse
polyéther sans fréon ainsi que deux
couches de coton cardé. Un matelas
de luxe de haute résilience et de
qualité supérieure, à grande longévité.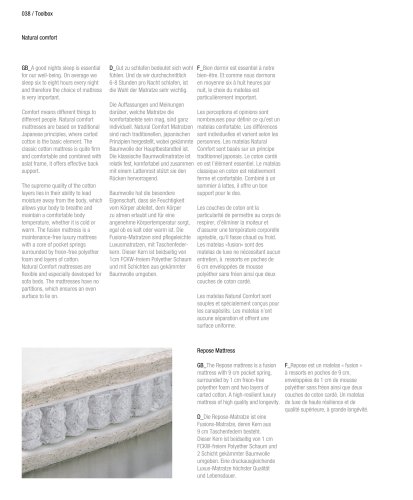 P. 33

033 / Sofa bedsOrbDesign by Peter Henriksen & Per Weiss 2004Original Innovation / All rights reservedMultifunctional sofa bed. Chromeand mat black...

P. 34

034 / Sofa beds

P. 35

035 / Sofa beds

P. 36

Design it yourselfToolbox Design it yourself036 / Toolbox

P. 37

037 / ToolboxDesign it yourself01: Choose a frameMinimumSee page 006SpiderSee page 016OrbSee page 026

P. 39

039 / Toolbox363 Texture grey dotDesign it yourself02: Choose a textile for the coverPrinted colours and texture samples might vary from actual colours.For...

P. 40

040 / ToolboxDesign it yourself03: Decide if you need cushionsOval cushions with carted cottoninserts. Available in all textiles, seepage 039.

P. 41

041 / ToolboxDesign it yourself04: Deside if you need a frame coverFrame cover for Minimum, Spider andOrb. Available in all textiles, see page039.

P. 42

042 / TablesGraphic CircularDesign by Per Weiss 2007Original Innovation / All rights reservedBlossom Berry Branch100 10031Table top in printed glass, 4...

P. 43

043 / TablesMetal tables with lacquered table topand chromed steel legs in optionalheight of 20, 30 or 40 cm. Table tops60-60 cm available in blackand...
Text version
All Innovation Randers a/s catalogues and technical brochures
Archived catalogues
INNOVATION - ISTYLE NEWS

34 Pages

INNOVATION - ROOM LIVING

50 Pages