KETTLE BROCHURE -
8 Pages
888.994.7636
unifiedbrands.net
Information contained in this brochure
is known to be current and accurate
at the time of printing. Unified Brands
recommends referencing our website
for updated and additional information.
Unified Brands is one of many individual operating companies of Dover Corporation,
a multi-billion dollar, global manufacturer of industrial products. The product lines of
Unified Brands–Groen, Randell, Avtec and CapKold–have leading industry positions
in cooking equipment, cook-chill production systems, custom fabrication, foodservice
refrigeration, ventilation and conveyor systems. Headquartered in Jackson, MS,
Unified Brands operates manufacturing facilities in Weidman, MI and Jackson, MS.
© 2010 Unified Brands. All Rights Reserved. Unified Brands is a wholly-owned subsidiary of Dover Corporation.
Printed in the USA 3/2010
Other quality products from Groen:
Tilting Braising Pans
Vortex100® Connectionless Steamers
SmartSteam100® Boilerless Steamers
ComboEase™ Combination Oven-Steamers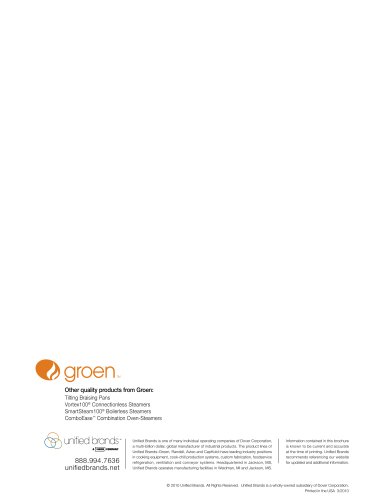 P. 3

What Can You Prepare in a Groen Kettle?Anything that can be prepared in a stock pot canbe prepared faster and more efficiently in a GroenSteam Jacketed...

P. 4

Determining Kettle SizeGroen Steam Jacketed Kettles are available in a wide range of types, styles and capacities. There is a Groen kettle that is perfect...

P. 5

Kettle Accessories & OptionsAny kettle model can be made more efficient, more versatile and easier to use,with the addition of one or more handy accessories...

P. 6

Kettle Tangent StrainersA stainless tangent strainer with 1/4" perforations is standardon all stationary floor model kettles. The strainer keeps...

P. 7

ModelsTS/9 STANDST5C TABLE MOUNTINGCABINET MOUNTINGHINGED COVERLIFT-OFF COVER1-PHASE3-PHASEKETTLE LIP STRAINERFILL FAUCETS316 STAINLESS INTERIORGAS QUICK...
Text version
All GROEN catalogues and technical brochures
Archived catalogues
Vortex100

8 Pages

SmartSteam100 Boilerless Steamer

8 Pages

ECLIPSE BRAISING PANS

4 Pages